My Grandmother Lucille (see Dedications) would have been 106 years old last week, on April 13th. I had planned to make her Fresh Apple Cake on her birthday, but reality intervened in the form of a baby copperhead snake sitting on my toilet that Friday morning. Nonetheless, we spent all weekend "de-snaking" our house and property. Now that's over with I can resume my cooking.
As usual, Lucille's recipe was handwritten on a 3×5 index card. With No Title.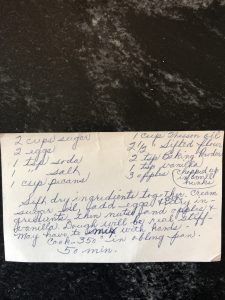 Luckily, my Mother knew what it was, "oh, that's my Mama's Fresh Apple Cake recipe"! Lucille's original recipe contained pecans, but I thought I might enhance the nutritional value of the cake through the substitution of walnuts.
WHY?
Both English and Black walnuts provide a healthy dose of omega-3 fats. Recall there are good and bad fats. Omega's 3 & 6 are good fats. Adding walnuts to your diet may lower your blood pressure and bad cholesterol, along with a myriad of other health benefits. However, Black walnuts offer arginine and selenium. Arginine is an essential amino acid (the building blocks of protein) and our bodies cannot produce it–we must get it through food. Selenium is an trace mineral, responsible for contributing to reproductive and thyroid health, as well as helping decrease DNA damage. Most of the walnuts we use in cooking are English walnuts, which are harvested in California. Black walnuts grow wild and are more rare and expensive than their English counterpart.
HOW-TO
You'll need a tube pan to bake the cake; not a bundt pan. I tried the bundt pan and because of the texture of the cake, it fell apart when I tried to release it from the pan. A tube pan, or angel food pan,is best because it's interior is smooth, allowing the cake batter to fill nicely with no air pockets.
Does it Matter What Type of Apple?
Generally speaking, most baked apple dishes use green Granny Smith apples; however Lucille did not specify, so I used three Pink Lady apples and it worked out just fine.
What's the best way to core and peel an apple?
After rinsing the apple, cut off a small section on both ends. (This allows you to form a base when coring the apple with a coring tool.) Using a paring knife, go from top to bottom of the apple, slicing away the skin in thin shreds. Once you've peeled the apple, you can either place the apple on its base and insert a coring tool or cut the apple in half, then cut away the core.
How big or small should the apple chunks be?
You'll want to make the chunks of apple smaller than bite size.
Lucille's Fresh Apple Cake
An easy, delicious and somewhat nutritional dessert that includes walnuts (optional) and apples.
Ingredients
4

cups

apple (about 3 large apples)

finely chopped

2

cups

sugar

4

whole

eggs

slightly beaten

1

cup

oil (vegetable or canola)

2 1/2

cups

flour

sifted

1

teaspoon

salt

2

teaspoons

baking powder

1

teaspoon

baking soda

1

teaspoon

vanilla extract
Instructions
In a medium bowl, combine apples and sugar; cover and let sit in refrigerator for one hour

Lightly dust tube pan with flour

In a large mixing bowl, cream together remaining ingredients, adding apples/sugar last

Combine well and pour into tube pan




Bake for 50 minutes; allow to rest for at least 15 minutes before removing cake from pan
Notes
The original recipe called for a cup of pecans; you can use either pecans or walnuts   
Prior to removing cake from pan, run the straight edge of a knife around the perimeter of the cake to loosen
If you like this recipe, take some to a neighbor or friend!
If you like this recipe and want to learn more, sign up below! I promise not to blow up your inbox with useless chatter, just an occasional notification.