Kale, egg and roasted pepper wrap is uber fast, healthy, and full of vitamins, nutrients, and minerals. The beauty of this power breakfast is that it will provide you with mega energy and you won't be starving by 10:00 am. In order to minimize carbohydrates, consider using a low carb tortilla.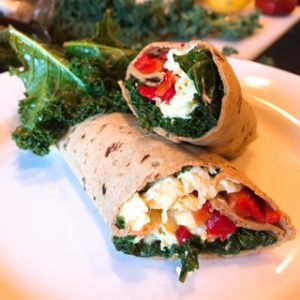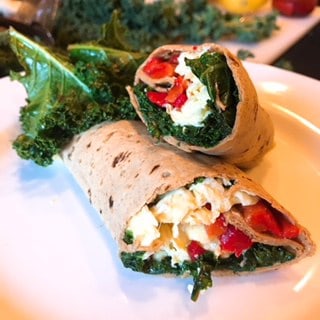 Kale Yeah!
Kale, as with parsley, had previously been treated as the step-child of the dinner plate, resigned to sitting on the edge of the plate as a garnish. But this is not the case any longer. Fortunately, kale has been identified as one of the most nutritionally dense foods on earth.
ANDI
Dr. Joel Fuhrman created a tool for measuring the aggregate nutritional density of a food, called the ANDI score. He ranked the nutrient values of foods based on 34 nutritional parameters, and devised a formula to measure the results. His equation H=N/C (health = nutrition divided by calories) has been since accepted as the norm in nutritional analysis of foods.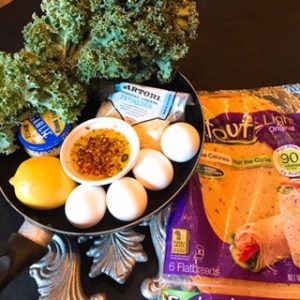 The ANDI score ranks a food from 1 – 1000 in terms of it's nutritional density (1 being the worst; 1000 being the best). Kale ranks 1000; soda ranks 1. For comparison, consider other foods' ANDI scores: salmon, bananas and eggs are all 31; corn is 45; sweet potatoes are 181; cauliflower is 315; romaine is 510 and spinach is 707.
Kale Power
One cup of raw, chopped kale provides only 33.5 calories with no sodium, fat, cholesterol or gluten. This powerful green serves 684% of the daily value of Vitamin K and 206% of the daily value of Vitamin A, which is essential for skin and vision. It also provides 134% of the daily value of Vitamin C. Other nutritional benefits of kale are it's supply of minerals. Unfortunately, most of us do not monitor our mineral intake as we should. One cup of kale provides 26% manganese, 10% copper and 9% potassium of the daily value.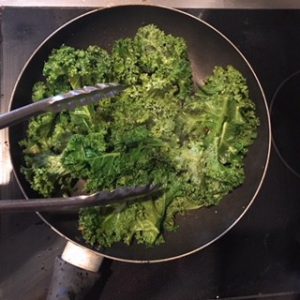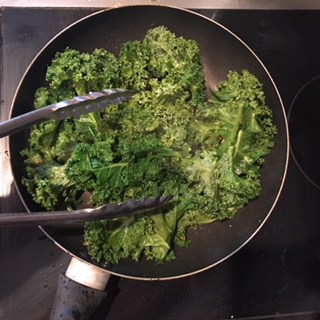 Egg it On
This recipe includes another power-punch of vitamins and minerals from the egg. Unfortunately, controversy continues to plague the egg, but recent research indicates that while the majority of the fat and cholesterol are in the yolk, it is the saturated fat, not the dietary cholesterol that impacts HDL. In conclusion, consuming whole eggs, in moderation, is a nutritious way to incorporate thirteen essential vitamins and minerals into the diet, as well as high-quality protein.
Brown vs White Egg
The difference between a brown and white egg is the hen. Consequently, hens with red feathers and red ear lobes lay brown eggs; white hens with white feathers and white ear lobes lay white eggs. Mystery solved. No matter which grade egg or color is used, the nutritional value remains the same. The kale, egg and roasted pepper wrap is quick and easy! Ideal for mornings "on the go"; cut in half and save the other half for later! See the recipe notes for additional tasty ingredients.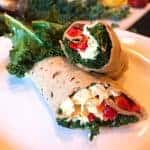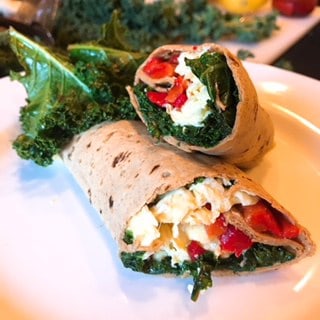 Kale, Egg and Roasted Pepper Wrap
Breakfast is the most important meal of the day and this quick, ultra-nutritious kale, egg, roasted pepper wrap will keep you energized all day!
Servings
:
2
eggs per wrap
Ingredients
2

large

whole eggs

1

large

low-carb flatbread or tortilla

1/2

bunch

fresh kale

rinsed, cored and chopped

1/2

teaspoon

olive oil

1/2

teaspoon

red pepper flakes

1

teaspoon

lemon juice

1/3

cup

roasted red peppers

chopped, from jar

salt and pepper to taste

shredded Parmesan cheese

optional
Instructions
Wash kale thoroughly, cut away center stem and discard; chop remainder of kale

Heat saucepan on medium heat with oil and red pepper flakes

Using tongs, toss kale in oil/pepper flake mixture until coated for about 2 minutes; finish with lemon juice and place on low carb flatbread

Scramble eggs and add to flatbread; top with roasted peppers

Season lightly with salt and pepper; roll-up flatbread/tortilla and enjoy!
Recipe Notes
If you prefer, egg whites can be used in lieu of a whole egg; use 4 white to 1 wrap
If time permits, saute onions and mushrooms to enhance nutritional value, or substitute tomatoes for red peppers.
On the go? Wrap the wrap in a paper towel and then foil; remove the foil and pop the wrap (covered with paper towel) in the microwave at work!
0