Vermicelli Summer Salad is the best dish you can have while lounging by the pool, dreaming of being on the Amalfi coast.
Vermicelli is a thin pasta, smaller than spaghetti but larger than capellini. This recipe is a spin-off of a fabulous pasta salad my friend Deb makes. She is an excellent cook and hostess extraordinaire ! The secret to getting this seemingly simple pasta dish to rock is: you must marinate the pasta overnight.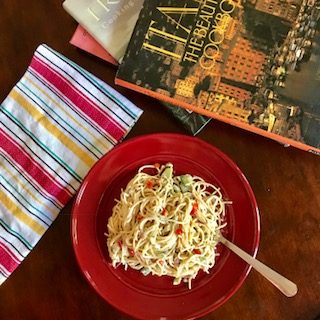 Isn't Vermicelli a Rice Noodle?
There are two types of Vermicelli noodles: the Italian, which is made with semolina flour, eggs and salt (and is used in this recipe) and the Asian variety, which uses rice flour instead of a semolina flour. If you wanted to prepare this dish gluten-free, you would use rice Vermicelli noodles.
Why Do I Have to Let the Noodles Sit Overnight?
The marination process of the noodles is key to the flavor of this dish. Without the overnight marinading of the noodles, this recipe would just taste like noodles with vegetables. The seasoned salt, lemon juice and olive oil turn the noodles into Rock-star noodles!…