What is it about drive-through chicken tenders?
It seems like every day, or at least six times a week, my daughter wants to go to a certain fast-food chicken restaurant that is closed on Sundays and shall remain nameless.  I don't get it. Hell, it's just fried chicken! And with so many being conscious about eating healthier, eliminating fried foods, etc., how come this place is always packed?
I got tired of dropping six bucks a day on their fried chicken tenders, so I told my daughter we'd just make some at home and she can heat them up whenever she wants one. Naturally, that didn't suit her because, well….now my sweet tea doesn't taste like their tea…I give.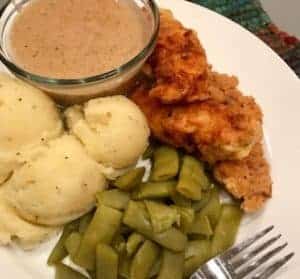 Now these tenders do see a bit of oil, but they aren't deep fried, so you can feel a little better about eating them once in a while. My husband could eat this meal every night. Meat, potatoes and green beans….