Summertime Cobbler is Here!



I remember watching my Grandmother make cobbler. She'd make peach, blueberry, and blackberry cobblers at the drop of a hat and with such ease!
I'd be sitting on the counter-top, watching her mix the flour and other ingredients, waiting impatiently for that warm-baked-sweet-cobbler to be done so I could put a big dollop of vanilla ice cream on top and devour it before my Grandaddy came sniffing around in the kitchen. You see, he liked cobbler, too…and root beer floats.
Every summer, I'd go to East Texas and spend up to two weeks staying with my Grandparents and hanging out with my cousins. Summer was different then. Maybe it's because I'm older, or maybe it's because summer really was different then. 
East Texas Cobbler
There was a real wooden picnic table out in the yard, under pecan trees. And there was a breeze. I don't recall hosing down the yard with toxic chemicals so we could sit out there…we'd just take a newspaper, a watermelon, a salt shaker, a roll of paper towels, and a big knife…oh, and a fly-swatter. We'd have a good ole' time!  There was a water sprinkler we'd sometimes run through, and Grandmother's garden we'd have to help tend to. We'd snap and shell peas, water tomatoes, and make pickles from the cucumbers she grew…endless fun in the kitchen! In the evenings, there were lightening bugs to catch, and sometimes, it would rain baby frogs. Seriously!!! Little bitty frogs that were about the size of a fingernail would come down with the summer rain!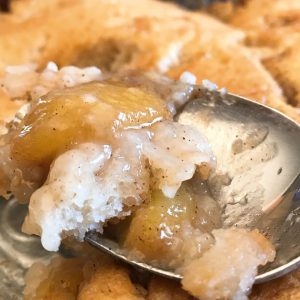 At night, we'd  leave the windows open and be gently lulled to sleep by a breeze, the scent of gardenia's, the sound of 18-wheeler's rolling down Highway 42, and the occasional sound of a train rolling through a nearby town. The perfect backdrop for a peaceful sleep. I haven't slept that well since I was last at their house, probably around 1991.
…