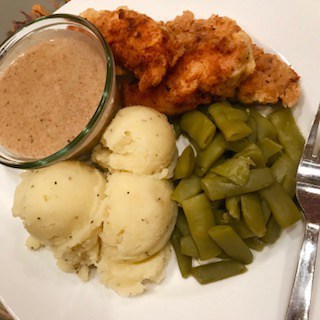 Chicken Tenders are quick and easy to make, a great "comfort" food and just darn good!
Chicken Tenders are a wonderful thing….my Grandmother, Lucille, used to fry chicken every now and then…and she'd use the whole chicken. Now days, the chicken breasts are so big, you can only get one in the pan at a time! As a result, I often make chicken tenders. It's a way to get a little slice of heaven on a weeknight without having to stand over a hot skillet for hours.
---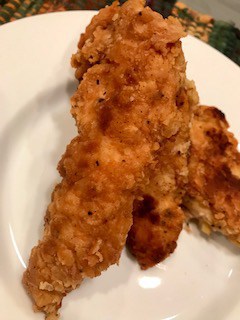 What Do I Buy to Make Chicken Tenders?
You can buy pre-cut chicken tenderloins, boneless, skinless chicken breasts, or boneless breasts with the skin on. Pre-cut tenderloins are small and more pricey; boneless, skinless chicken breasts are less expensive than chicken tenderloins, but they provide a lot more meat. Finally, boneless chicken with the skin on is less expensive than skinless, but then you have to allow time to remove the skin. I recommend boneless, skinless chicken breasts and I cut them into small pieces.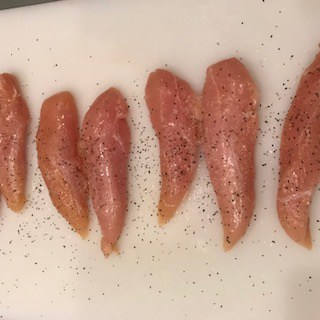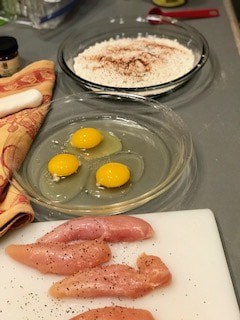 What Kind of Oil is Best for Cooking Chicken Tenders?
You'll want to use an oil with a high heat capacity, like corn, vegetable, canola, walnut, grapeseed or peanut oil. Lucille used Crisco, but that's a trans fat and not good for the body.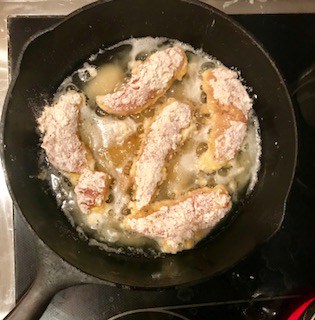 How Much Oil Do I Use?
It really depends upon the size of your pan. You want about an inch of oil in the bottom of the pan. Heat it till it's almost to smoking point-you'll see the steam/smoke coming off the top of the pan. When it gets to that temperature, it's almost too hot, so turn the heat down a bit and put in your breaded chicken tenders.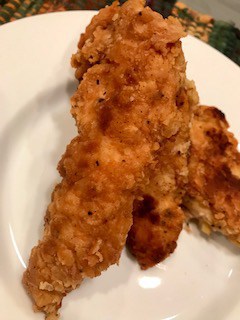 How Do I Know When The Chicken Tenders Are Done?
The most precise measure is to use a meat thermometer. When it registers 165ºF, the tenders are safe to eat. I usually put them in the pan and don't move them for about 5 minutes; if one end of the tender is thicker than the other, I might adjust the position so the meatier part is closer to the center flame. After about 6 -8 minutes, use tongs and flip the tenders over. Another 3-4 minutes and they should be done. Drain on paper towels.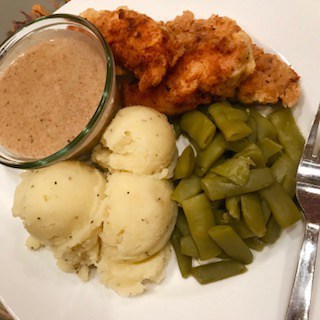 Homestyle Chicken Tenders
Chicken tenders are always a favorite as an entree or snack! The best thing of all is they're easy to make and you know exactly what you're eating! No preservatives, no fillers...just good old homemade chicken tenders!
Print
Pin
Rate
Ingredients
1

package

chicken tenders

(allow 2-3 tenders per person)

2

cups

flour

3-4

whole

eggs

slightly beaten

1

tablespoon

paprika (smoky; not sweet)

1/2

cup

oil (canola or vegetable)

not olive oil

salt

pepper
Instructions
Lightly salt and pepper chicken tenders

In a heavy bottom skillet, add 1/2 cup oil and bring to medium heat

In one flat bottomed bowl (I use a pie plate) add lightly beaten eggs

In a second flat bottomed bowl, add flour, 1/2 teaspoon salt, 1 teaspoon pepper and paprika; combine with fork

Dredge chicken tender in egg, then flour and add to hot skillet. Do not turn chicken until one side is completely done; (check it by lifting up an edge with a fork to see if it's browned)

Repeat dredging tenders in egg, then flour; work in batches; do not overcrowd the skillet

Once one side of the tenders is browned, flip it over and brown the other side

Use a thermometer to ensure chicken is 165 degrees internally

Place on paper towel to remove any residual oil
Notes
Chicken tenders are the tenderloin of a whole chicken breast, however, you can make this dish with chicken breasts, too. Just slice the breast in half lengthwise and pound with a meat cleaver until the breast is about 1/4 inch thick.
Want chicken nuggets? Cut the chicken into bite size pieces
If you're making nuggets for a big group, place the egg/floured nugget on a foil lined baking dish and bake at 375 degrees for about 15 minutes; be sure to flip them during the baking time
The usual condiments are ketchup, a ranch-type dressing, barbecue sauce or honey mustard dressing