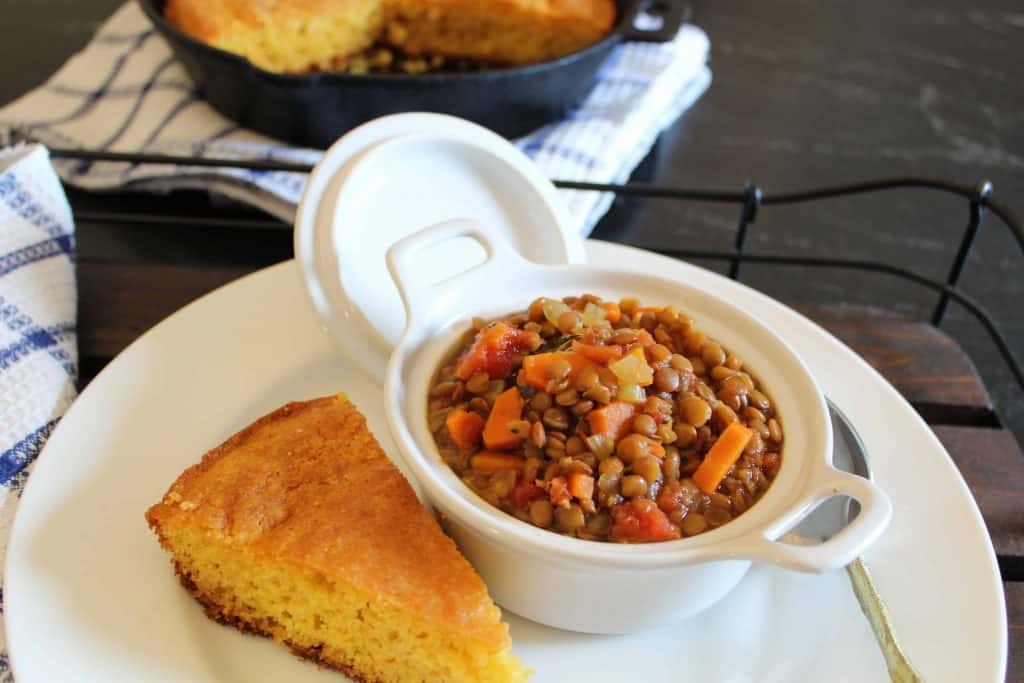 Healthy Lentil Soup is a welcome addition to the menu anytime of the year!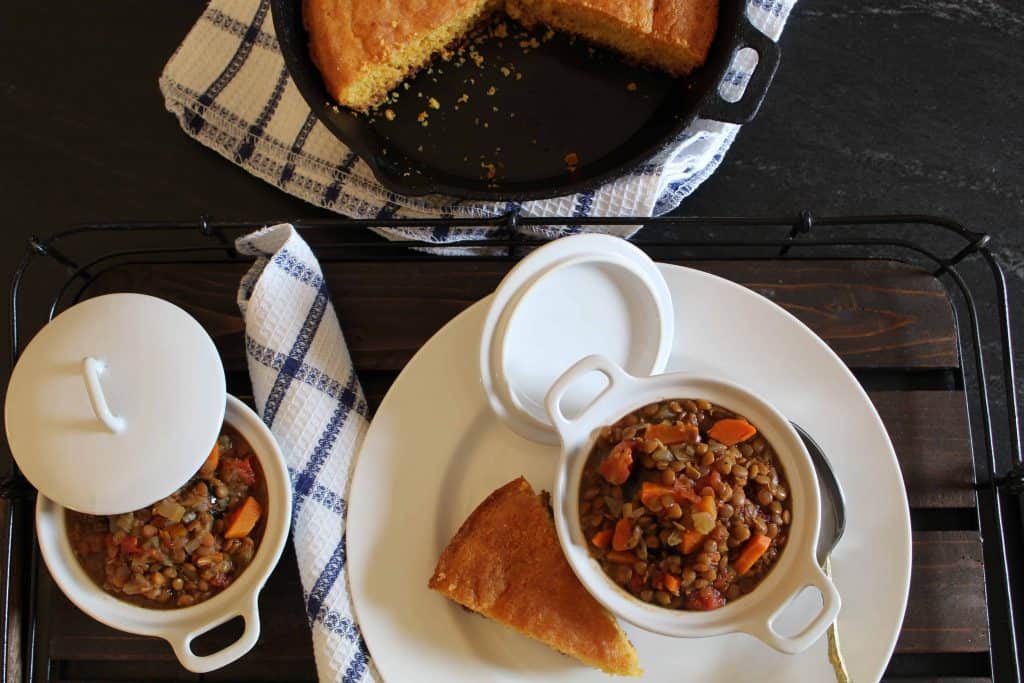 This recipe for Healthy Lentil soup is one of my favorite"go-to" soups whenever it's cold or even when it's not! Lentils are super high in fiber, which is a good thing (especially after all of those high carb Thanksgiving side dishes…)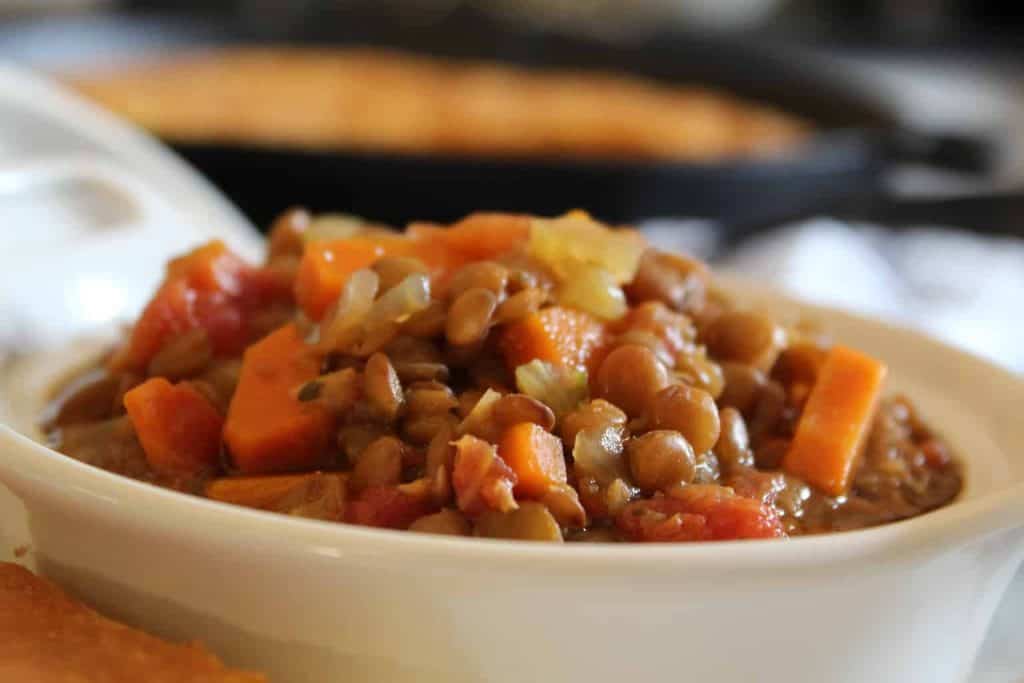 Are Lentils Fattening?
Lentils are legumes and are naturally low in fat and high in fiber. Lentils do contain carbohydrates; in fact, 1/2 cup of cooked lentils has about 20 grams of carbohydrates. If you're on a low-carb diet, you can still have healthy lentil soup, but you'll want to reduce your portion size.
Fiber In Lentils
Fiber is important in our diets for various reasons including the absorption of carbohydrates. Carbohydrates are essential for energy; however, some of the foods we eat are "bad" carbs–simple carbs like pasta, cookies, cakes, etc. Lentils contain"good", complex carbohydrates, which break down more slowly than simple carbs, and assist in our bodies absorption process. The complex carbohydrates in lentil soup will provide you with energy and a feeling of satiety for much longer than a piece of cake or pie. Plus that, your blood sugar won't spike with complex carbs.
How Do I Make Healthy Lentil Soup for Vegans?
The base of this recipe is chicken broth, however, if you're making a vegan version, you can substitute the chicken broth with vegetable broth or water.
Can I Add Protein to Lentil Soup?
Yes. If you want to add a protein to the lentil soup, you might add cooked chicken, beef or turkey.
As a side note, you can refrigerate and re-heat the healthy lentil soup the next day, however, it will thicken in the fridge. You can either add more water, vegetable or chicken stock to thin the soup when re-heating.
Print Recipe
Lentil Soup
Lentil Soup is delicious, easy to make and ultra healthy!
Ingredients
1

cup

lentils

1

cup

yellow onion

chopped

2

cups

carrots (about 3 large carrots)

sliced

½

cup

celery (about 2 stalks)

chopped

2

tablespoons

olive oil

1

28 oz.

can petite diced tomatoes

1

32 oz.

box of vegetable broth (about 4 cups)

3

bay leaves

½

teaspoon

nutmeg

salt and pepper to taste
Instructions
In a dutch oven, add oil, onion, carrot and celery; cook on medium-high until onions are translucent (5-8 minutes)

Add tomatoes (with their juice), broth and bay leaves

Bring combination to boil

Reduce heat to medium low and cook 10-15 minutes, or until carrots are tender

Reduce heat to low; add lentils; cover and let simmer about 25 minutes, till lentils are tender

Lentils absorb liquid, so check on them occasionally; you may need to add more broth or water

Remove bay leaves prior to serving
Notes
Lentils do not need to be soaked--just rinsed prior to adding them to the liquid
If you want to heighten the nutrition of lentil soup, add 3 cups of chopped kale about 5 minutes before serving
This recipe in total takes about an hour to make because I like to bring the tomato mixture to a rolling boil then let it cook for about 20 minutes; however, you don't have to cook the tomato mixture that long--I think it allows the flavors to marry and cooks off some of the acidity from the tomatoes.
Lentils are legumes, which are naturally vegan, low-fat, low-cholesterol and gluten-free. They are cousins to the split pea and do not require soaking like other beans. Serve this flavorful soup as an entree or side dish paired with homemade skillet cornbread or a green salad!
What Color Lentil Do I Use?
There are three types of lentils: brown, red and green. This recipe uses brown lentils, which have a mild flavor and are most common. Red lentils, commonly found in curries, are the sweetest tasting. Green lentils are a bit more peppery and require more cooking time.
Ingredients in Lentil Soup
This delicious homemade soup contains simple ingredients you probably have in your pantry and refrigerator!
brown lentils
onion, celery, carrots
diced tomatoes
vegetable broth
bay leaves
nutmeg
If you prefer a spicier soup, add a little cayenne pepper!
Can I Make Lentil Soup in a Slow Cooker?
If you want to make this recipe in a slow cooker, use green lentils. They work best in slow cookers and salads because they tend to hold their shape. Keep in mind, green lentils have a bit of peppery flavor to them, so you may need to adjust your seasonings. Brown and red lentils do not work well in slow cookers-they turn to mush.
I always like to make a batch of homemade cornbread with my lentil soup!
[contact-form][contact-field label="Name" type="name" required="true" /][contact-field label="Email" type="email" required="true" /][contact-field label="Website" type="url" /][contact-field label="Message" type="textarea" /][/contact-form]