Grilled lamb loins are the perfect choice as an appetizer or a tapas dish for your next get-together! Quick and easy to prepare, lamb loins go with just about anything! 

Grilled lamb loins are perfect when entertaining! Big or small, hosting a party can be challenging, particularly when it comes to the menu. As a host, you have to consider not only the personalities of your guests, but also their food personalities, likes and dislikes. When I entertain, I always try to have an assortment of snacks that include a protein, a vegetarian and vegan dish. This is one of my "go-to" protein appetizers that is always a hit!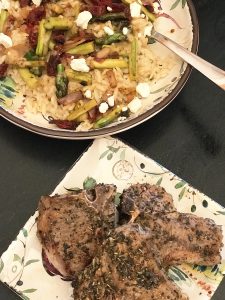 While lamb is not the most inexpensive protein, it is ideal if you have a small gathering and want to impress! If you're on a budget, buy lamb loins when they're on sale or in the manager's reduced section and freeze them. Every time they're on sale, buy one package…until you accumulate enough to accommodate your party. Keep in mind that the lamb loin is not an entree here, merely an appetizer or part of a tapas plate.
WHY?
Lamb is a better quality of protein than beef. It does cost a little more, but if you prepare it properly, a little bit of a great thing goes a long way. Three ounces of lamb loin provides a host of nutrients, vitamins and minerals. Lamb is loaded with B Vitamins, as well as those minerals we don't think of: phosphorous, selenium, copper, zinc and potassium.
Americans don't consume a lot of lamb, probably because of the cost, or perhaps the nursery rhyme, "Mary Had a Little Lamb"….
HOW-TO?
Marinate the lamb loins in a mixture of oil and vinegar, along with fresh garlic, spices and seasonings (Mediterranean Meat Marinade and Dressing). Because lamb is already a tender meat, the marination process further tenderizes the protein and enhances it's naturally mild flavor. After the lamb loins have marinated for one hour, simply fire up an outdoor or indoor grill, place them where they will lightly sear, then move them to the side to continue cooking. I used an indoor grill for this recipe and cooked the lamb loins at 350ºF for about 3-5 minutes on each side. You want the outside somewhat crispy and the inside tender and moist. A high, fast sear and then a slow cook accomplishes this!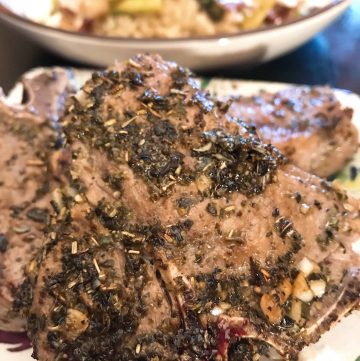 Grilled Lamb Loins
Grilled lamb loins are quick and easy to prepare and deliciously impressive! Serve them as an appetizer or a tapas dish!
Course:
Appetizer, Main Course
Cuisine:
Greek, Mediterranean
Ingredients
4

lamb loins

1

cup

Mediterranean Marinade and Dressing
Instructions
Place lamb loins in a large plastic bag

Pour Mediterranean marinade and dressing over meat

Massage liquid to cover lamb loins

Place plastic bag in refrigerator; rotate every 10 minutes

Heat grill (about 350ºF); add lamb loins to hot grill and sear 3-4 minutes on each side

Move loins away from heat and cook until internal temperature is at least 140ºF (rare)

Remove lamb loins from grill; cover with foil tent and allow to sit for 5 minutes