Frying catfish at home is really easy–don't be afraid! It's actually a pretty quick meal to prepare and oh, so delicious! This crispy breading has seasonings that really bring out the flavor of the fish.
Fried Catfish is Easy to Make!
This recipe offers methods for creating a crispy and crunchy outer coating with a mild, flavorful and flaky inside! Delicious!! First, soak the catfish in buttermilk for about 30 minutes; season it with a pinch of salt, pepper, and cayenne pepper. Meanwhile, prepare your cornmeal with the same seasonings. Beat a few eggs and place them in a shallow pan; place the seasoned cornmeal in a shallow pan.
Be Sure to Use an Oil That Can Stand High Temperatures
Next, heat a heavy bottom skillet with oil. You'll want to use an oil that can withstand high heat: vegetable, peanut or grapeseed. If you're inclined, you can use Crisco shortening; the fish cooks up better with the lard, but it's not very good for your arteries….
Once the skillet and oil are good and hot, throw in a few fillets. Do not move them. Let them cook until the underside is crispy golden brown…then flip the fillet. Wait another 5 minutes or so and move the cooked fillets to a plate covered with paper towels; allow the fillets to drain; cover with foil and make the next batch of fillets.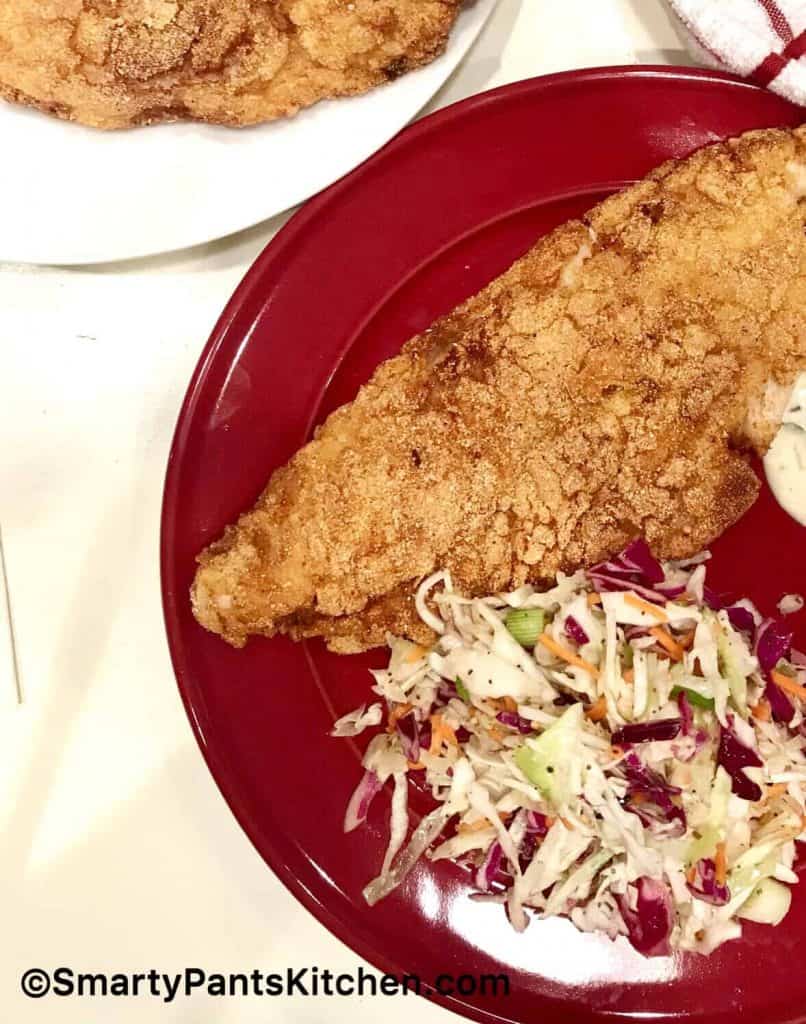 You can squeeze fresh lemon juice over the cooked fillets, or leave them and garnish with a slice of lemon. Accompaniments include tartar sauce, baked beans and coleslaw! No need to pay overpriced restaurant prices for something that is so easy to make! It just takes a little planning and preparation.
No Mayo Coleslaw
No mayo coleslaw is the perfect side dish for your next outdoor event! Keep it fresh and cool by placing its serving bowl in a vessel of ice! Sweet and tangy, it pairs well with barbecue, ribs, burgers, you name it!
Ingredients
Slaw Ingredients
1/2

small

head of red cabbage

sliced

1/2

small

head of green cabbage

sliced

4

carrots

shaved

1/2

cup

green onions

chopped
Dressing Ingredients
1/2

cup

vinegar

1/4

cup

sugar

1/4

cup

oil

2

tablespoons

dried mustard

1

teaspoon

celery seed

1

teaspoon

mustard seed

1/2

teaspoon

salt

1/2

teaspoon

pepper
Instructions
Slaw Instructions
In a food processor, using the shredding disc, shred red and green cabbage and carrots

Add all slaw ingredients to a big bowl
Dressing Instructions
Combine all dressing ingredients in a medium saucepan and cook on medium heat until sugar is dissolved; pour mixture over slaw, cover and refrigerate
Recipe Notes
No Mayo Coleslaw is a quick, easy and healthy alternative to traditional mayonnaise-based slaws
Because it has no eggs, it can sit outside at a barbecue or pool party without going rancid
It tastes best after the marinade has set in the slaw for awhile; drain additional marinade prior to serving
You might want to make No Mayo Coleslaw  to go with your awesome catfish!
0