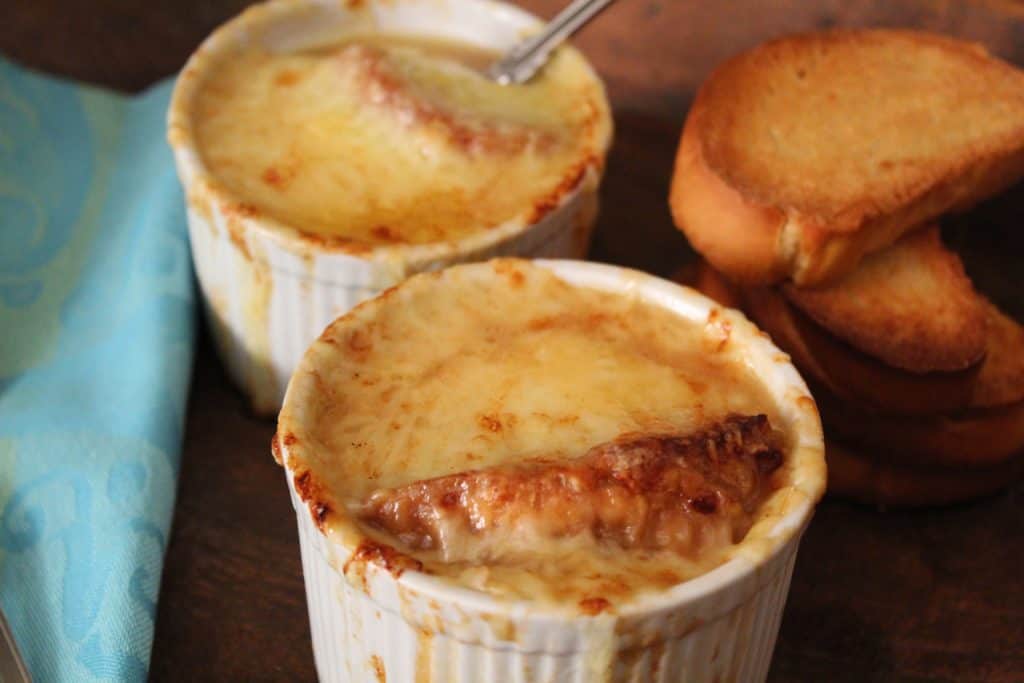 French Onion Soup is a deliciously easy and comforting soup to make!
I love French Onion Soup and this recipe is absolutely delicious because it's based on Julia Child's recipe! The biggest challenge I always have when making this is, I forget to buy the Cognac, so if you're planning on making this, go to the liquor store now!!! My version of Julia's recipe doesn't include Cognac, but it tastes just divine!
---
Several years ago when I was in Paris, I visited a million bistros but never had any French Onion Soup, can you believe that? My dear friend Brenda and I strolled the streets and visited bistros for the vino…we people-watched and drank wine. And we had a blast! So, when making this recipe, I tried to find out if bistros in Paris really serve French Onion Soup, and they do! Here are some places to try French Onion Soup when in Paris.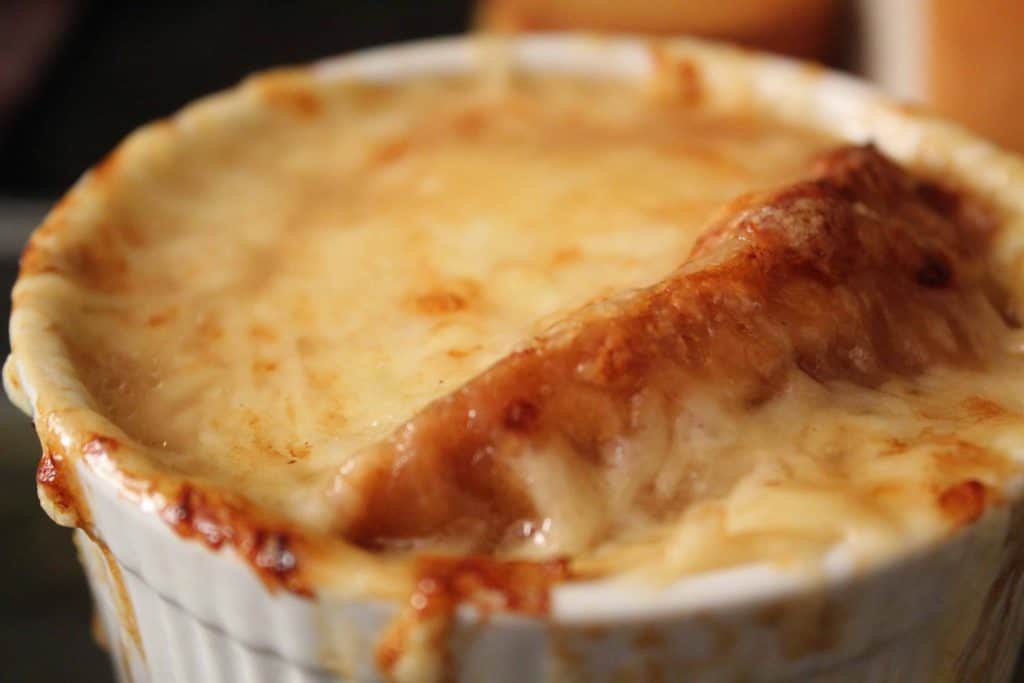 What Type of Onions Should I Use?
Traditionally, yellow onions are used for French Onion Soup, however, you can use white onions as a substitute. I used Sweet Yellow Onions in this recipe, simply because I made it on a Sunday and had no Cognac!
Do I Need to Make Broth Stock from Scratch?
In a perfect world, yes, but no one hardly has time to make a beef stock from scratch, so go ahead and use a canned beef stock. When choosing a beef stock, read the ingredients and make sure there's no high fructose corn syrup, added colorants, or other random stuff. Most quality stocks/broths have about six ingredients….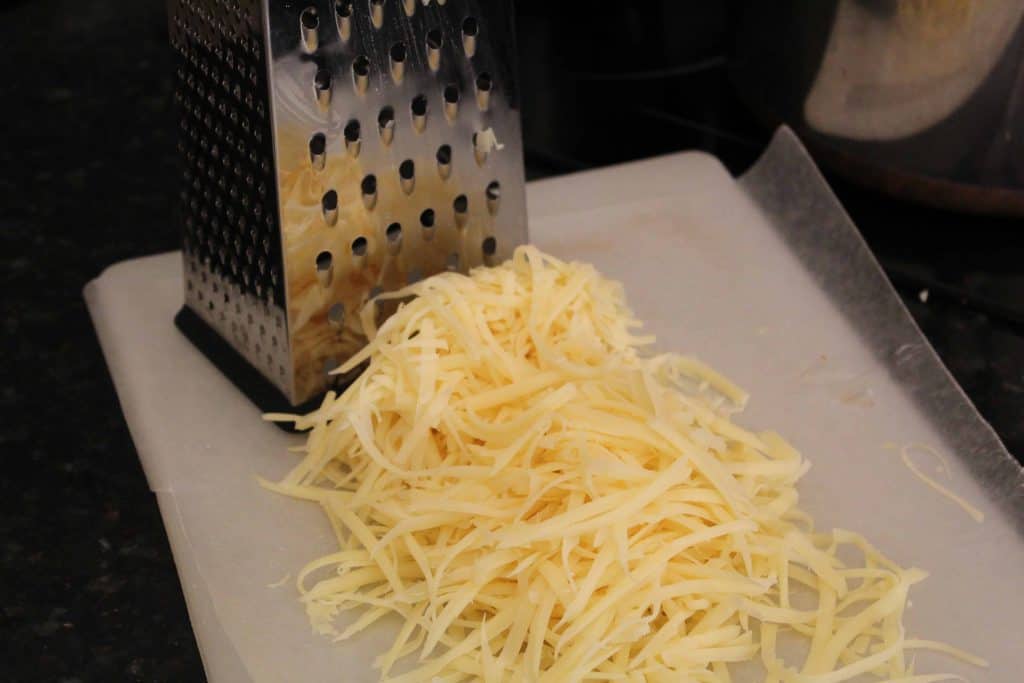 What Kind of Cheese Should I Use?
Julia's recipe calls for Swiss cheese. Other recipes call for Gruyere, or Comte. Swiss and Gruyere are both from Switzerland. Comte, is from the Comte region of Eastern France. They are all three similar in flavor, but Gruyere has a bit of a nuttier flavor to it and it's also expensive. Comte is expensive, too, and hard to find. Don't sweat the small stuff, use Swiss. You will want to note that any of these three cheeses will yield an oily finish on top of the soup, so be prepared to use a paper towel to dab up excess oil after broiling the cheese.
What Kind of Bread Should I Use?
A toasted slice of French bread is usually the norm, however, if you want you can purchase pre-baked Crostini rounds at your local grocer. I wouldn't recommend getting a flavored Crostini because it will detract from the flavor of the soup.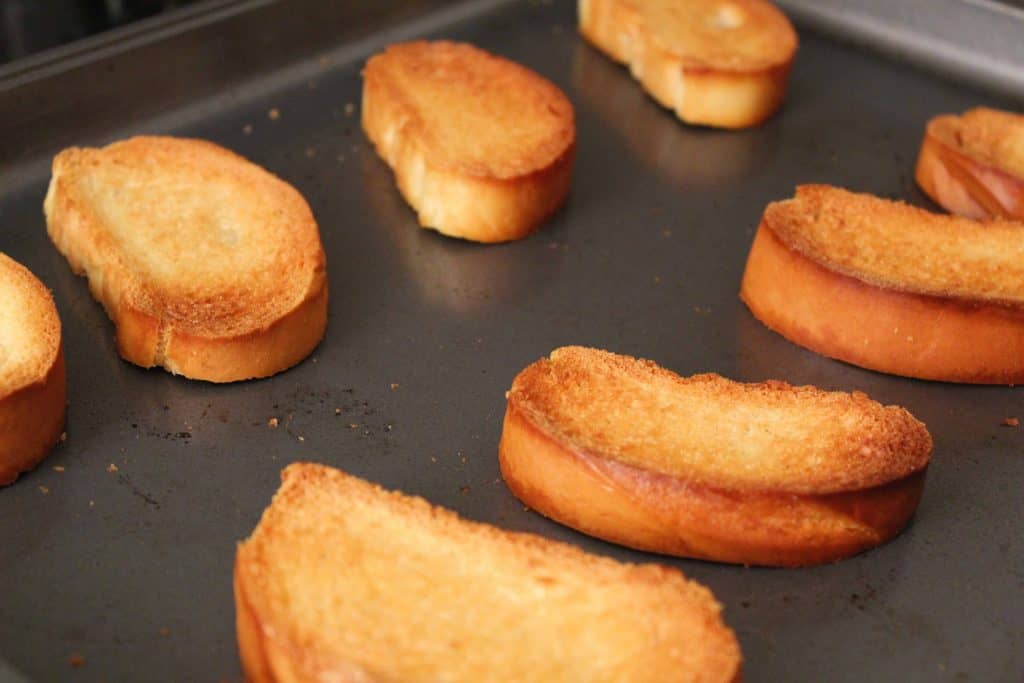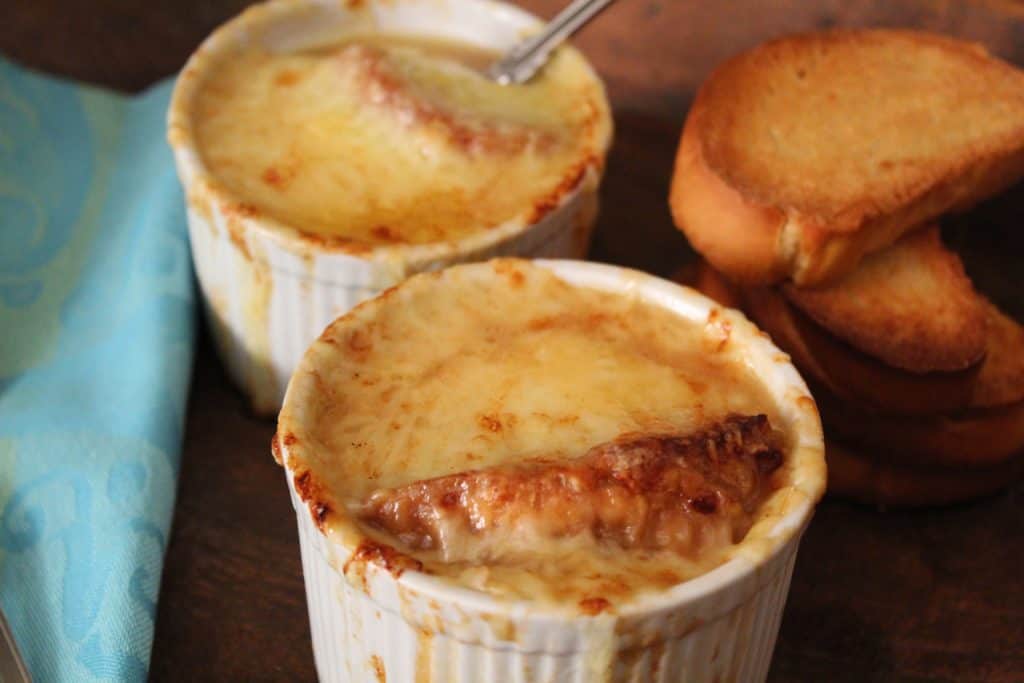 You might want to try the Shrimp and Crab Beggar's Purse to accompany this delicious soup!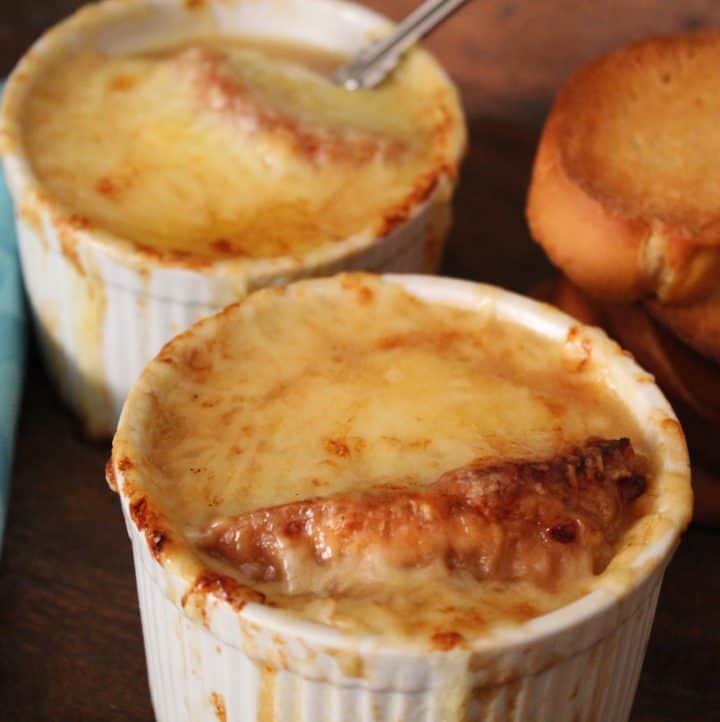 Print Recipe
French Onion Soup
Easy, delicious, comforting French Onion Soup based on Julia Child's famous recipe!
Ingredients
5-6

large

yellow onions

sliced very thin

1

stick

butter

3

tablespoons

olive oil

64

oz.

beef broth

1

tablespoon

sugar

3

tablespoons

flour

1/2

teaspoon

sage

, ground

1

whole

bay leaf

12

oz.

Swiss, Gruyere, or Comte cheese

shredded

1

cup

dry white wine

1

loaf

French bread

sliced

salt & pepper

to taste
Instructions
Melt 1 stick of butter and oil in a large stock pot on medium heat

Add sliced onions and sugar to melted butter and allow to cook on medium low until onions are brown.

Once onions are browned, add flour and beef stock; combine well

Add wine, sage and bay leaf; bring to boil for 5 minutes, then reduce heat to medium low and cover; Note: ( if using Cognac or brandy, add it here, after you've reduced the heat) 
Making Crostini
Slice French Bread into 1/4 inch pieces

Lightly coat bread slices with olive oil and place on oiled baking sheet

Place baking sheet in oven and bake for 15 minutes; then turn bread slices and bake another 15 minutes, or until golden brown

Remove from oven and set aside
Soup Assembly
Turn oven temperature to broil; remove bay leaf from soup

Ladle onion soup 2/3 of the way into oven-safe ramekins; ; add toasted French bread; top with shredded cheese

Place ramekins on baking sheet and place under broiler until cheese is nicely browned

Remove baking sheet from oven; using a paper towel, dip the ends of the paper towel onto the residual oil from the baked cheese

Ramekins will be extremely hot; allow to sit for about 8 minutes prior to serving
Notes
How Do I Make This Classic French Soup?
The soup itself cooks pretty quickly, however, the onions require a bit of time--about 30 minutes of cooking on low heat in order to caramelize. 
In a large stockpot, melt oil and butter on medium heat
Add sliced onions; coat onions well; cover and cook for 15-20 minutes; stir onions frequently to prevent burning
Add salt and sugar to onions; coat well; continue to cook until onions are caramelized (brown in color)
Reduce heat to medium low; sprinkle in flour and coat onions; 
Add beef stock, wine, sage, bay leaf; allow to simmer for 30 minutes
Taste for seasonings; add salt and pepper to your preference
What Kind of Cheese Should I Use?
Traditional, classic or authentic recipes generally use Gruyere cheese because of it's nutty flavor and melting capabilities. Unfortunately, Gruyere is expensive and in this case, use a high-quality Swiss cheese.  
How to Serve French Onion Soup
You'll want to serve this delicious soup in an oven-safe ramekin. Once the soup is seasoned to your liking, it's time to finish it off with bread and cheese!
Preheat oven to the broil setting
Place ramekins on a baking sheet
Ladle soup into ramekins 2/3 of the way
Place a thin slice of bread on the soup
Top the bread with a generous amount of cheese 
Place under broiler until cheese begins to brown and bubble
Remove baking sheet from oven
Carefully place each ramekin on a saucer (the ramekins get very very hot in the oven-use an oven mitt)
Garnish with fresh sage; serve
What Entree Goes Well with French Onion Soup?
This full-bodied soup can stand on it's own or serve as a first course to a delicious entree of pasta, steak, baked chicken or fish. Since the soup uses beef broth, it pairs nicely with beef and a glass of red or white wine. 
Can I Make this In Advance?
French onion soup can be made in advance; make the soup and store in an air-tight container. Prior to serving, reheat the soup on the stove or microwave, ladle into ramekins, add bread, cheese and broil!
Need something to go with your soup? Make a beautiful Cheeseboard or Shrimp and Crab meat Beggar's Purse!