Easy Menu Planning
Four Steps to Easy Menu Planning is for those who are relatively new in the kitchen, seasoned cooks, and those who are bored with their menus! Here, you'll learn how to turn plain, weeknight dinner into a delicious, savory Culinary Masterpiece! No special tools or knowledge required!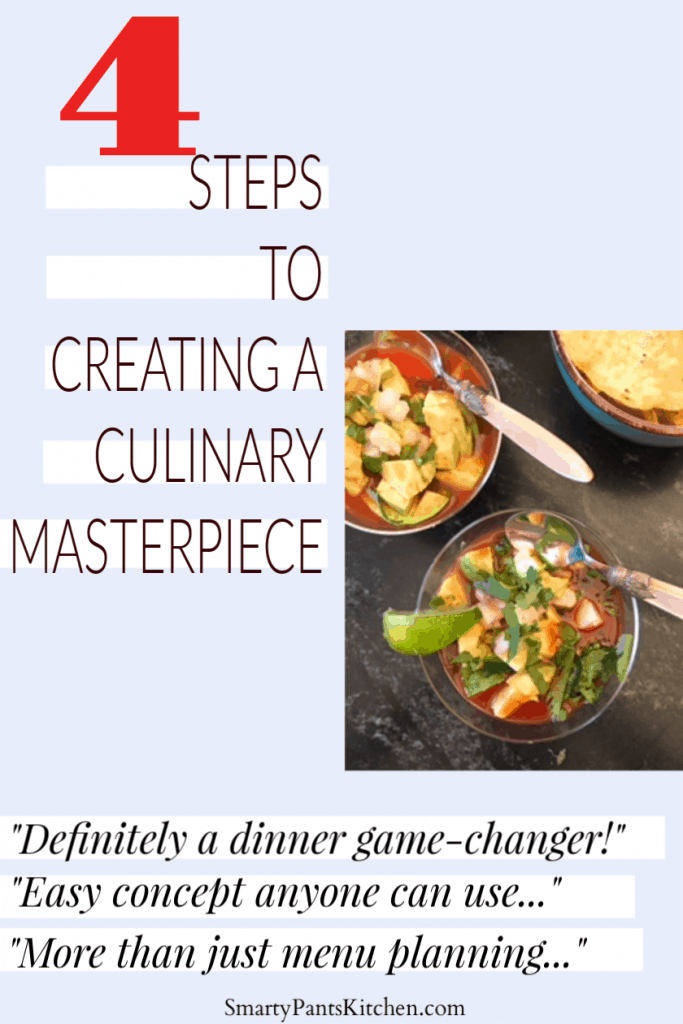 Four Steps to Creating a Culinary Masterpiece
STEP 1: Determine Menu "What's For Dinner?"
Most often, the number one factor in determining the menu is our palate. It answers the never-ending question, "What's For Dinner?" Menu planning is often challenging — someone has to decide what's for dinner so, as the cook, you can either make an executive decision or take a poll. In any case, you'll probably want to eat a balanced meal that offers healthy proportions of protein, carbohydrates, grains and fruit.

When determining a menu, several factors are considered. For instance: time (shopping and cooking), budget, palate, nutrients, vitamins, ingredients-on-hand and number of servings. With these simple guidelines and a bit of imagination, you can make menu planning easy and fun.
Turn the ordinary into a culinary masterpiece! Let's presume you decide you want chicken, green beans, brown rice and something sweet for dessert. Sure, you can bake the chicken, steam the rice, saute the green beans and have a bowl of ice cream for dinner, but this routine gets boring if you cook and season the meal the same way every time. So let's add a touch of creativity to our menu!
STEP 2: Determine Method of Preparation
Using the chicken dinner as an example, ask yourself, "How do I plan to cook the chicken?" Again, this may be based on several factors- time, budget, etc. There are various methods of cooking.

Dry heat methods include cooking with air or fat: grilling (direct heat), broiling, roasting, frying or sauteing. Moist cooking methods include cooking with water: poaching, boiling, or steaming. Once you determine the method of cooking, it's time to travel!
STEP 3 : Select A Region
This is the fun part of menu planning! Pull up a map and pick a country or region. Maybe you recently traveled to Sicily and want to re-create that memory, or perhaps you'd love to go to Greece one day…let your imagination guide you because there's no right or wrong in creating a culinary masterpiece!

Each region of a country has varied gastronomic differences; for instance, interior Mexico offers different menus than coastal Mexico. Same for Northern and Southern Italy.
STEP 4 : Select Seasonings
Let's presume you've determined you want to grill the chicken and go to Greece. Since grilling is a high, direct-heat, you'll want to primarily use ground seasonings and marinades; if you were to add woody sprigs of fresh rosemary or delicate sprigs of fresh dill to the grill, they would burn, so in the grilling situation, you'd season the chicken with ground rosemary and/or dill.

Once you've identified what and how you're going to cook the protein, you'll want to create an interesting flavor profile for the whole meal. This can be done by considering varied spices and seasonings for the side dishes with complimentary flavors.
Create a Flavor Profile for Your Culinary Masterpiece
If the Greek, grilled chicken is going to have a predominant dill (citrus) flavor, you'll want to choose complimentary seasonings for the rice and green beans. Consider adding a nutty flavor to the rice, as in coriander, roasted almonds or hazelnuts.
The same thought process applies to the green beans; perhaps you want a little heat, so you might saute the green beans and season them with a bit of cayenne or white pepper. For dessert, naturally you'll want to keep your Greek theme going, so you might make (or pick up) a few slices of baklava or make a simple orange cake to finish off the Greek Culinary Masterpiece!
The possibilities for creating a culinary masterpiece are endless!
This guide will help you identify what you're going to serve, how you're going to cook it, what seasonings, spices and aromatics you'll use, and how to season the side dishes! It's a thought process that requires just a little time…
Once you've practiced this thought-process, you'll be turning bland, baked chicken and green beans into a Culinary Masterpiece from France, Spain, the Mediterranean….? Use your imagination and go for it!!!
[pdf-embedder url="https://www.smartypantskitchen.com/wp-content/uploads/2018/08/Build-a-Meal.pdf" title="Build a Meal"]
Craving More? You might like "Trending Spices: Change the Dinner Game!"