This savory Chicken Stew recipe is reminiscent of my Mom's Famous Gumbo, but made in a quarter of the time. Perfect for a chilly evening, I find myself making this bowlful of Southern comfort at least once a month during the winter...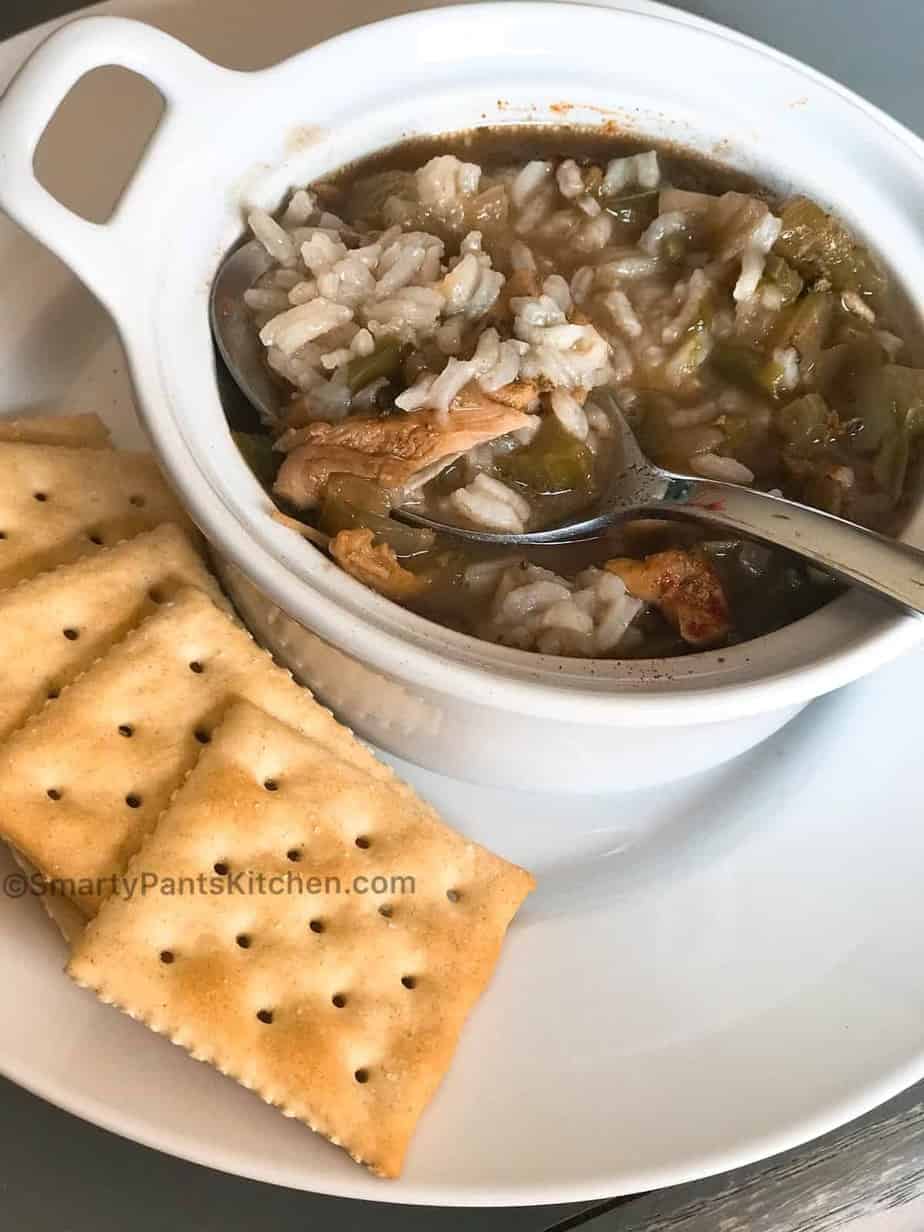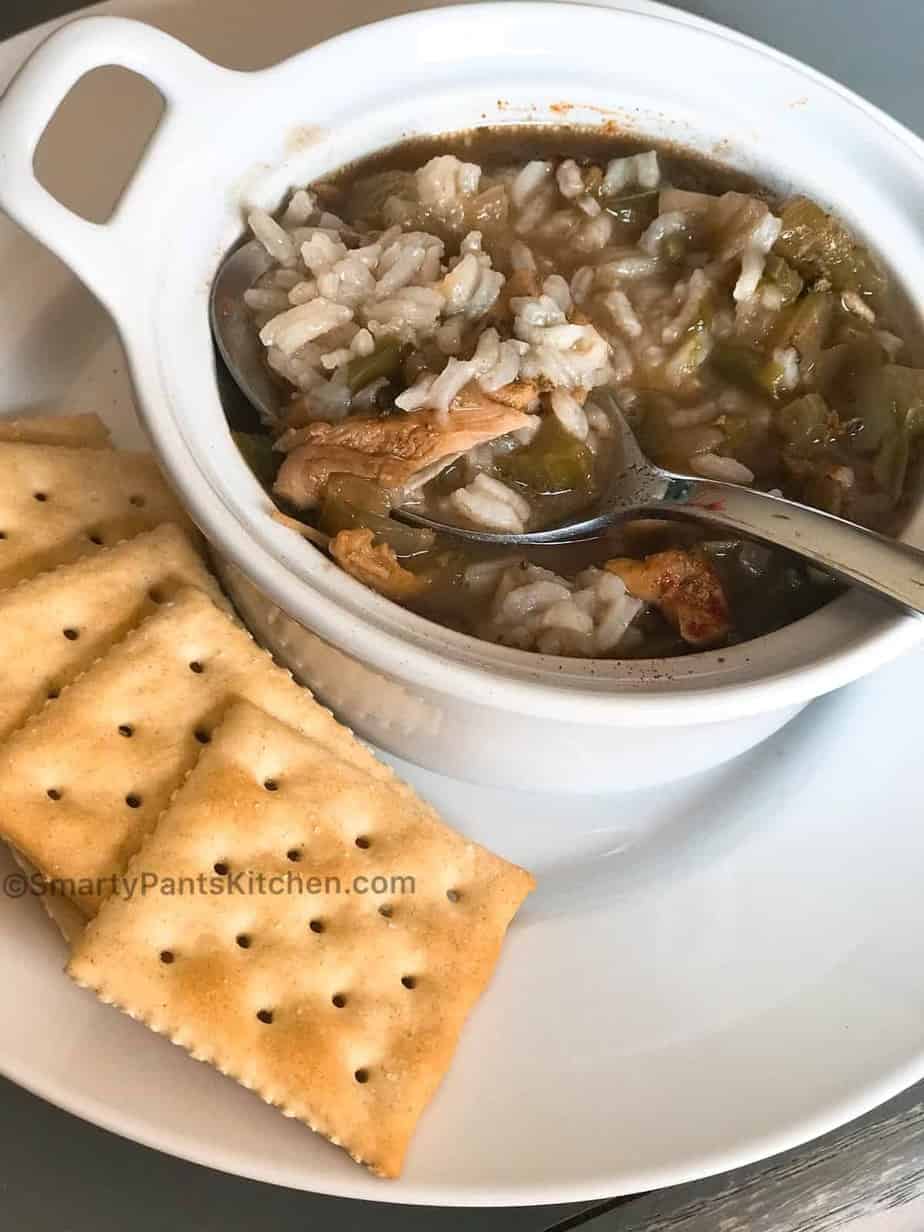 This is Not Gumbo
While I admit to being a 'gumbo snob', I must repeat. This is not gumbo…just a cousin with a Louisiana flair. Starting with The Holy Trinity– celery, onions and bell peppers, you'll build a rich, dark roux (see How to Make a Roux)and add in the tender chicken. Make a quick pot of rice and dinner is done!
What Type of Chicken Meat Should I Use? Light or Dark?
In this recipe, I used chicken thighs because I think dark meat has much more flavor than white. In any case, you can use all white meat but you'll be missing out on some of the chicken flavor.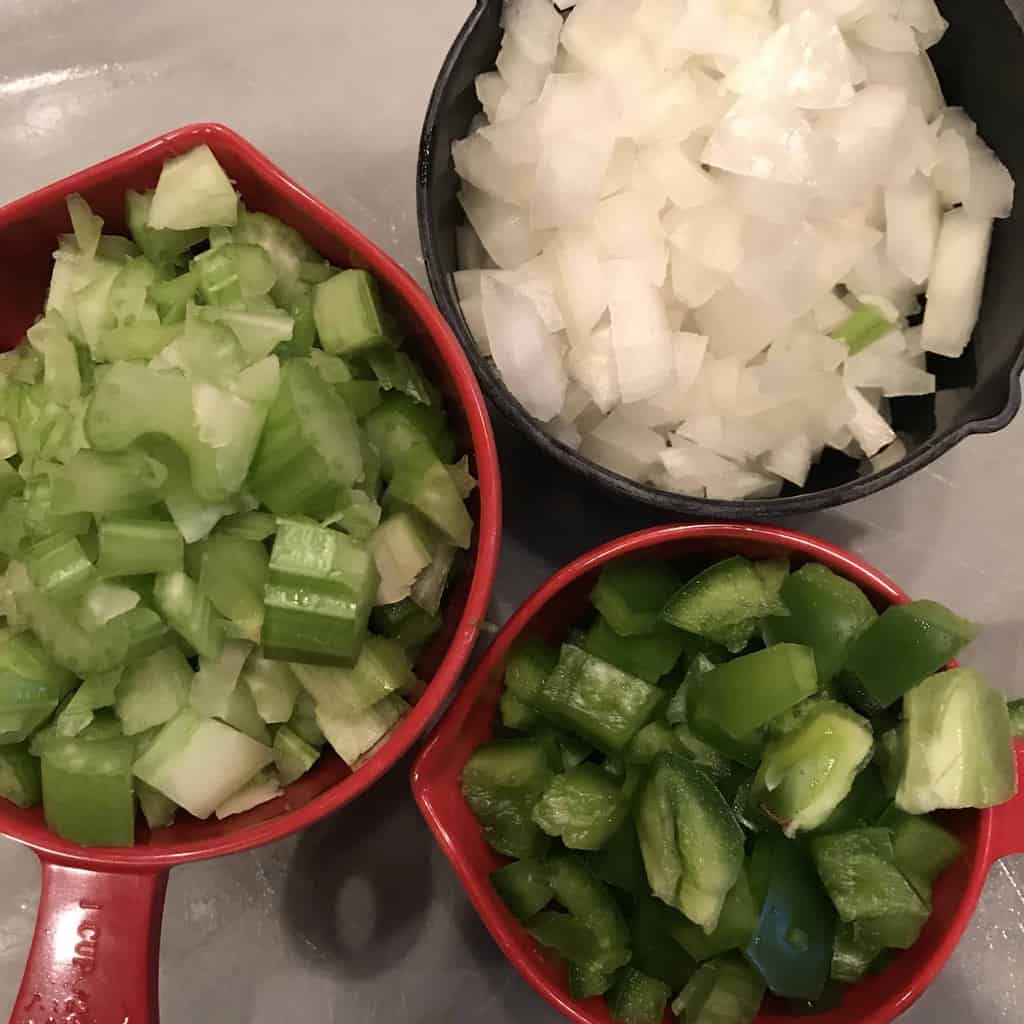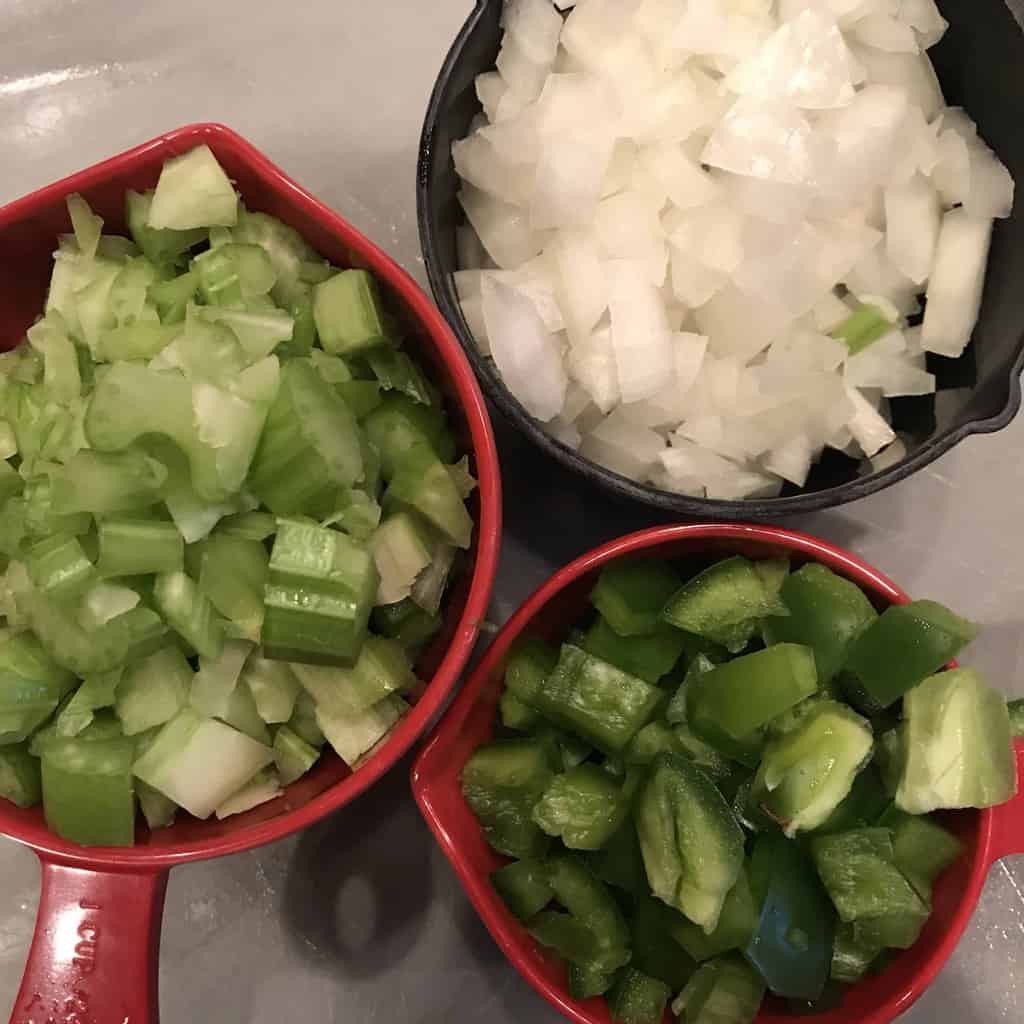 Make a big pot of this because everyone will love it and the leftovers are even better!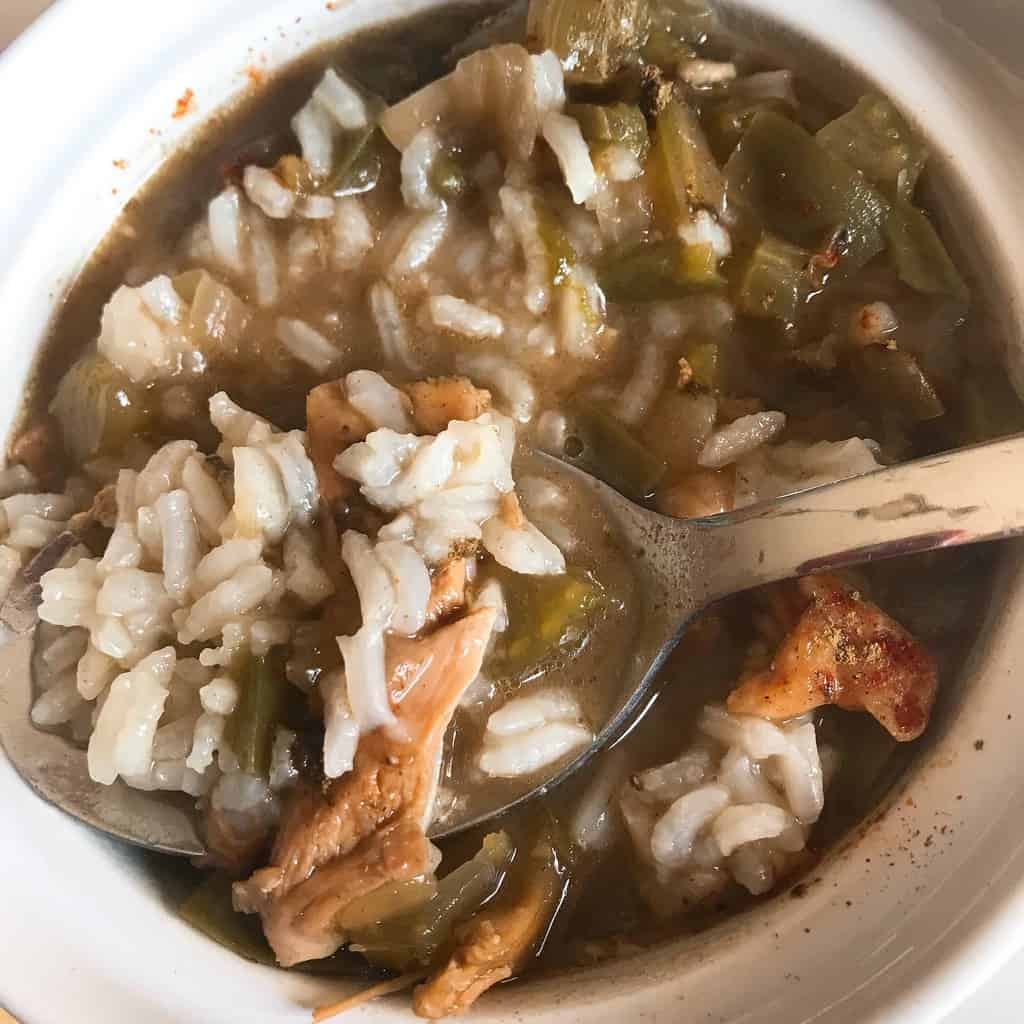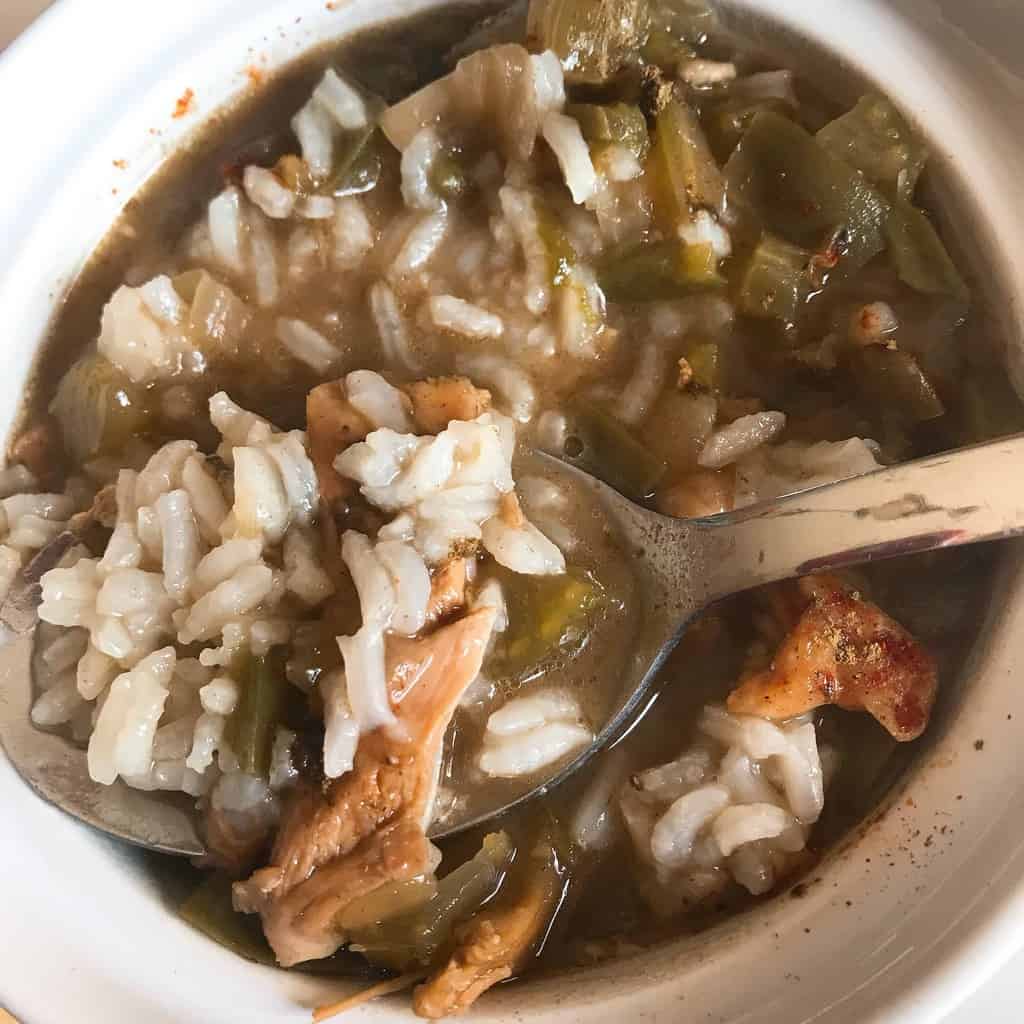 Garnish with 
Filé
File is ground sassafrass and is NEVER to be used as an ingredient in a gumbo or Louisiana cooking. It is a thickening agent that is used only as a garnish, after the dish has been prepared.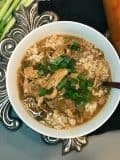 Chicken Stew
A rich, savory chicken stew perfect for any cold evening. Chicken stew can be made in less than an hour-perfect for a weeknight dinner.
Print
Pin
Rate
Baking Chicken:
30
minutes
Ingredients
2

lbs

chicken thighs

(about 8 boneless, skinless thighs)

1/2

cup

celery

chopped

1/2

cup

yellow onion

chopped

1/2

cup

green bell pepper

chopped

32

oz.

chicken stock or broth

2

2

tablespoons

oil

1/4

cup

roux mix

-I use Kary's out of Louisiana

salt

to taste

pepper

to taste

Gumbo file'

garnish/thickener

green onions

garnish
Instructions
Preheat oven to 350 degrees

Lightly season chicken thighs with salt and pepper

Place seasoned chicken thighs on foil or parchment lined baking dish and bake for 30 minutes or until internal temperature of chicken is 165 degrees

Meanwhile, in a heavy bottomed skillet (cast iron recommended) and on medium heat, add oil, onions, bell peppers and celery; cook about 5 minutes

Add roux mix to onion mixture and allow to cook for 10 minutes. (This will be very thick and clumpy).

Gradually add chicken broth to roux and onion mixture; continue stirring and adding more broth until the consistency of the roux is smooth

Remove cooked chicken from oven; pull chicken from bone and place in the skillet with onion mixture

Allow to simmer, covered for 20 minutes

Add gumbo file seasoning to finished product for a thicker stew (optional)

Garnish with chopped green onions
Notes
About the Chicken
If chicken thighs have the skin on, you have two options:
Remove skin prior to baking thighs -or-
Boil skin-on thighs in water; remove skin after thighs have cooled
White meat can be used for this recipe, but the dark meat gives the richest flavor.
The flavor of this chicken stew intensifies and gets better after it has sat awhile. If time permits, allow the cooked stew to sit on the stove with no heat for about 30 minutes. Then bring back to simmer and serve.
About the Roux
You've got 3 options and all result in an excellent flavor. 
Powdered Roux - usually in the baking section; follow directions
Roux in a Jar - usually in the "International" section; ask your grocer to help you find it. Technically, it's a "soup starter" for lack of a better explanation. If your grocer doesn't have it, ask them to order it. There are two jarred roux's I like to use: Kary's and Bootsie's. Both from Louisiana.
Homemade Roux - always first choice; learn how to make a homemade roux for any dish here.