15 Bean Soup is a hearty dish full of vitamins, nutrients and flavor! This recipe uses all natural flavorants-not the packet of "dried seasonings" that comes with the bag of beans. Serve this delicious bowl of goodness with some homemade cornbread!
Bean Soup is always a good thing to have in the fridge, particularly when it's cold outside! It's one of those comfort foods that warms you up and keeps you going all day.  
Homemade 15 Bean Soup
The easiest way to make 15 Bean Soup is to buy a bag of "15-bean mix" — you'll find it with the dried beans in the grocery store, or in the bulk section of your grocer.
The pre-packaged soup mix includes a package of seasonings that I question (a small packet of smoked ham flavorings), which most likely include the dreaded MSG. I discard the seasoning package and add my own seasonings.
What Types of Beans are in the Soup Mix?
As the title indicates, there are 15 varieties of beans in this hearty soup including: pinto, black, northern, lima, yelloweye, garbanzo, split, kidney, cranberry, small white, pink, small red, lentil, navy and white kidney.
While each of these varieties offers unique nutritional benefits, legumes in general are low-fat, low-cholesterol and full of fiber. The fiber acts like a vacuum cleaner in our digestive tract–it "sweeps out" harmful toxins, pathogens and extra sugar, and that's a good thing!
Do I Soak the Beans Overnight?
The beans in the 15 Bean Soup Mix are dried beans, of which some require soaking. For best results, soak the beans in water for at least eight hours. Pour off the soaking water and then cook the beans according to the recipe. Soaking allows the beans to absorp water which replaces the naturally occuring gas in beans.
Vegan/Vegetarian Version of 15 Bean Soup
Make this bean soup for your vegan or vegetarian friends by simply substituting chicken/beef broth with vegetable broth and omitting the hamhock.
How to Reduce Gas in Cooked Beans
Soaking beans is the best way to reduce gas; however, if you don't have time for soaking, simply put a few drops of Beano™  in the bean soup.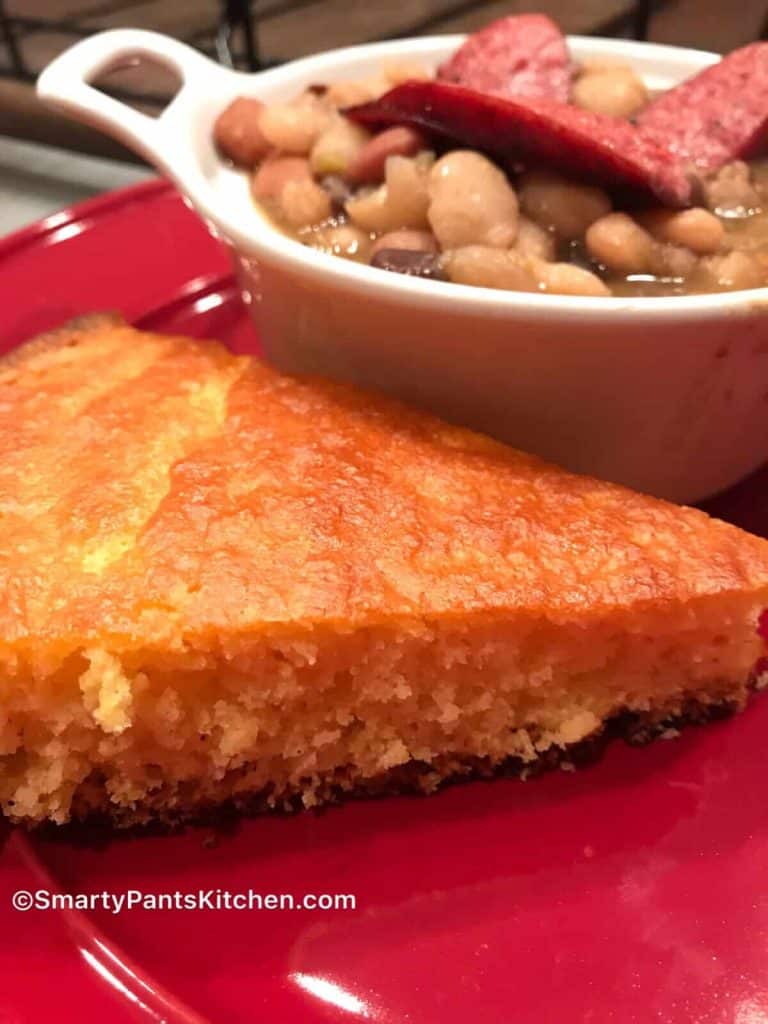 Cook up a quick batch of homemade cornbread and call it dinner…
Craving more soup? Try Creamy White Bean Soup!
15 Bean Soup
15 Bean Soup is a hearty, healthy meal with great flavor!
Print
Rate
Ingredients
1

pkg

dried 15 bean soup mix

1

large

smoked hamhock

optional

1/2

large

onion

chopped

64

oz.

vegetable, chicken, beef broth/stock

-OR-

64

oz.

water

2

tablespoons

oil
Instructions
In a large stock pot on medium heat, add oil and chopped onions

Saute onions until translucent or tender

Add ham hock; available in the meat/ham section of your grocer. I recommend using a smoked ham hock for optimal flavor.

Allow beans to come to a boil

Once beans have come to a boil, reduce heat to simmer and cover

Continue to cook, checking liquid level frequently, until all beans are tender
Notes
You can purchase a 15-bean soup mix pre-packaged, or buy the 15 bean mix in the bulk section of some grocers. If you purchase the pre-packaged bean mix, discard the seasoning packet.
The seasoning packet is 'ham' flavorings; the ham hock serves as a healthier substitute for the packet of dry seasonings.