3-ingredient Basic White Cream Sauce (Bechamel sauce) is ready in 8-minutes! No more sauce paranoia!
This Basic White Cream Sauce is one of the five classic French "Mother Sauces", and is the base for many other cream based sauces and gravies. Once you master this easy white cream sauce, the sauce world is your oyster!
Here, you'll learn exactly how to make a smooth, flavorful Bechamel that you'll be proud of everytime!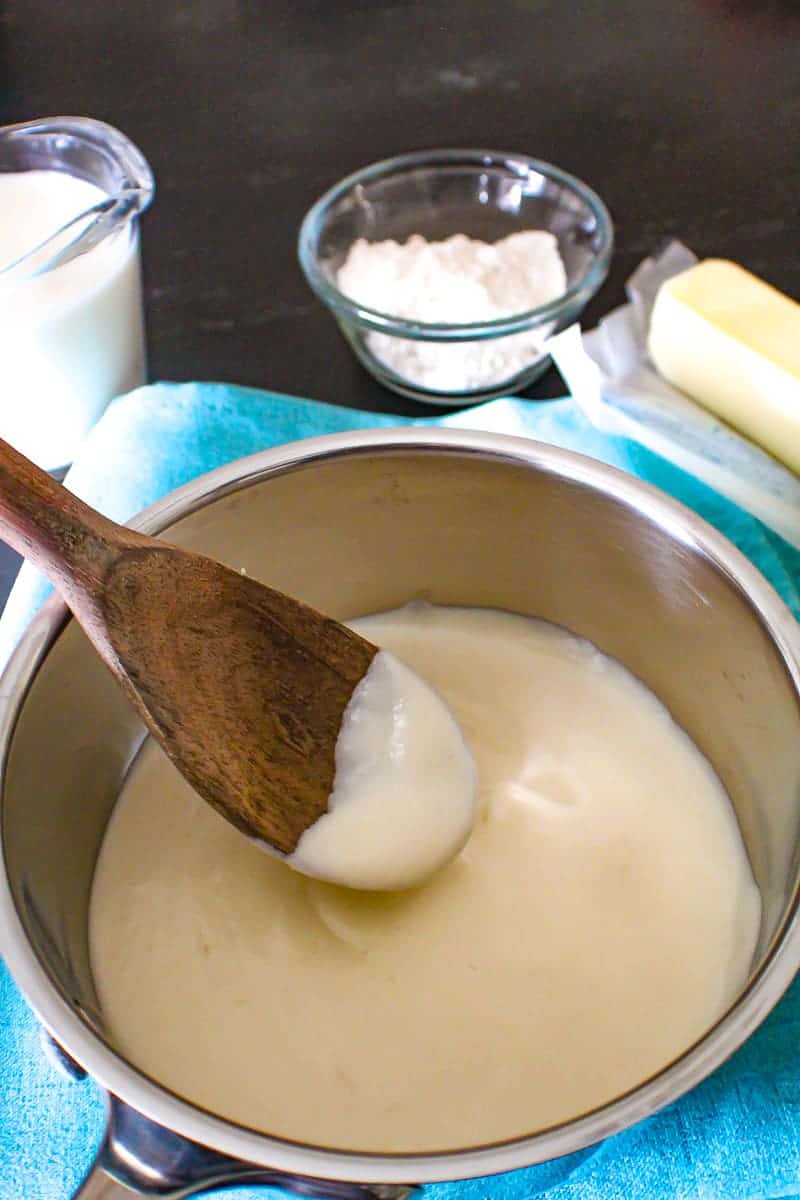 This cream sauce base is also perfect for thickening soups and casseroles and the introduction to many cream-based sauces. The simplicity of it is what makes it ideal for many recipes.
Jump to:
Why this recipe works
3-Ingredients - 8-minutes
Versatile: use this white cream sauce with milk recipe for the base of other sauces: Mornay sauce (cheese sauce), creamy herb sauces, homemade alfredo sauce and more!
This quick 8-minute white cream sauce recipe will be your "go-to" recipe for a million other sauces
Base for many other sauces: Mornay sauce (cheese sauce), creamy herb sauces, Alfredo, and more!
Makes a great cream sauce for vegetables
A great substitute for canned condensed soups! Just add chicken bouillon!
Here's what you'll need
There's nothing fancy going on here with this easy sauce recipe. Simple ingredients:
Butter - I use salted butter but you can make this creamy white sauce with unsalted butter if you prefer
All-purpose flour - if you want a gluten free white cream sauce, just substitute the AP flour with GF flour
Milk- use whole milk or 2% milk; not skim milk
Salt & pepper to taste
How to make basic white cream sauce with milk
This white cream sauce is relatively easy to make and takes about 8 minutes. This recipe yields 2 cups of sauce. Just follow these easy steps and check out the recipe notes in the recipe card below.
First, you make this simple sauce by making a roux, which is equal parts of fat (butter) and flour.
In a medium saucepan, on medium-low heat, melt butter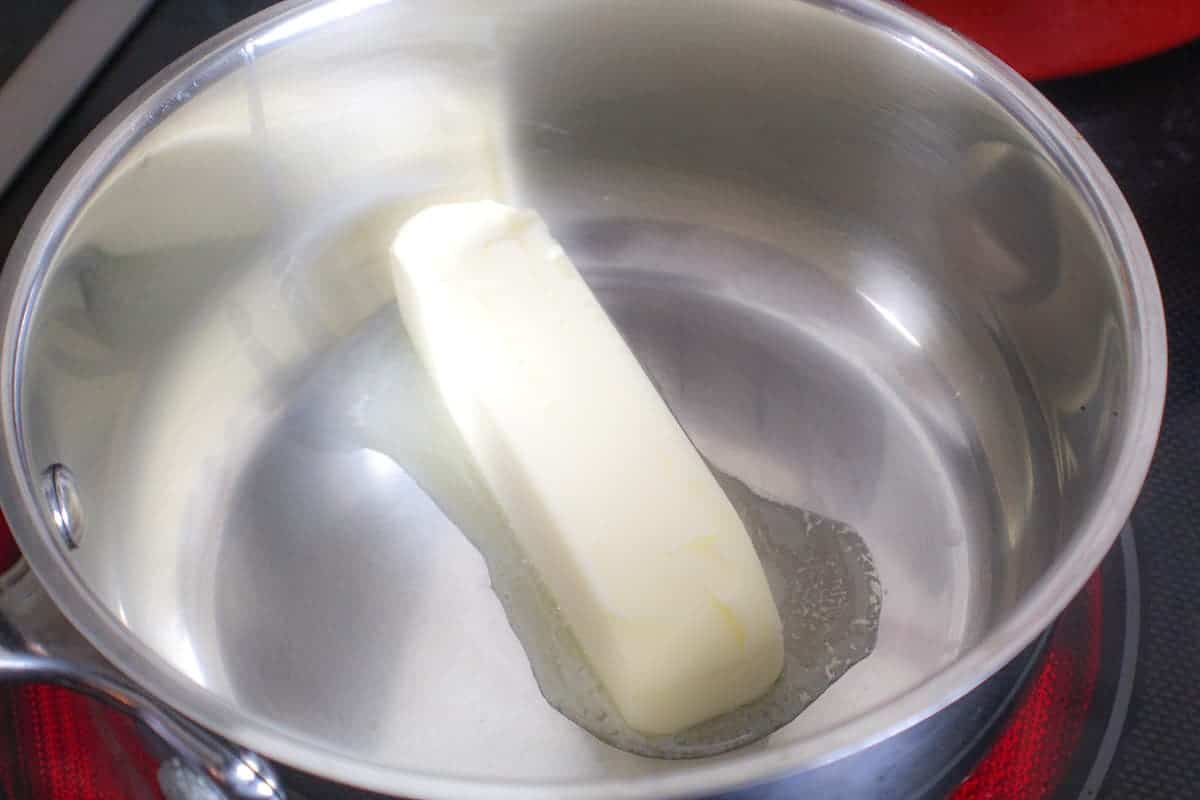 Then sprinkle in flour and whisk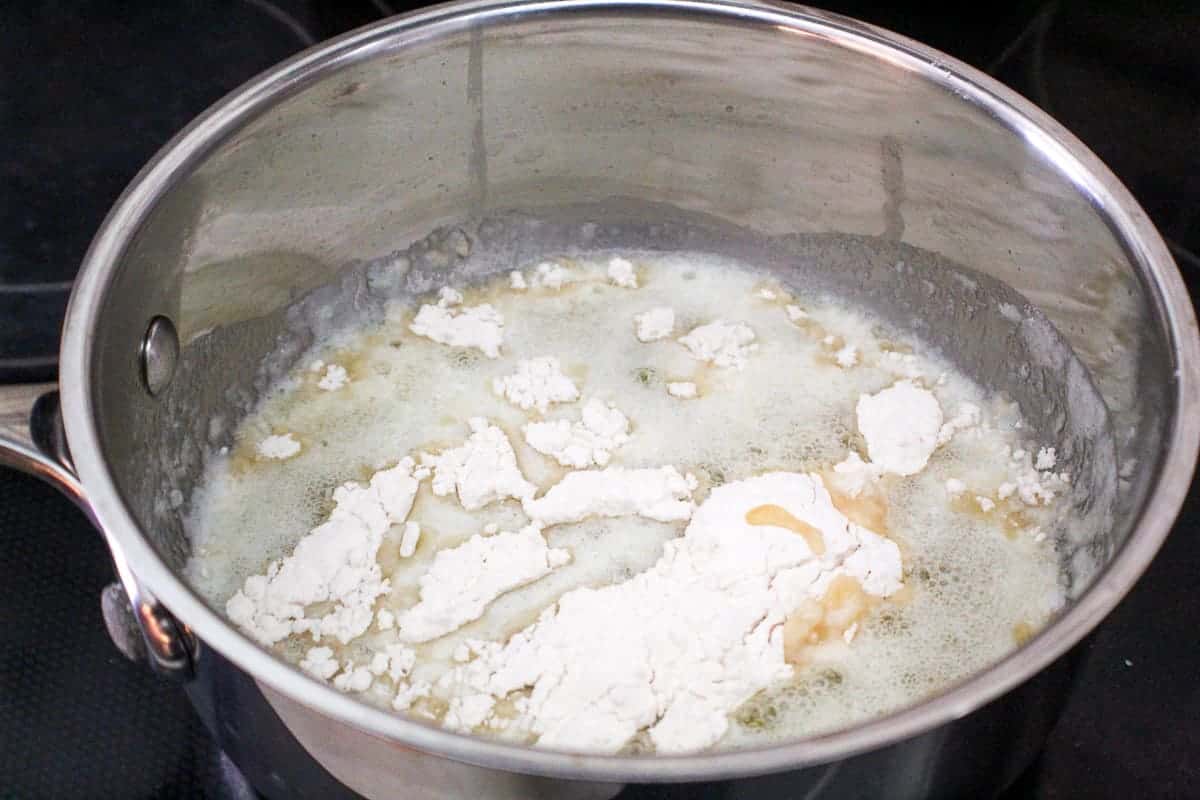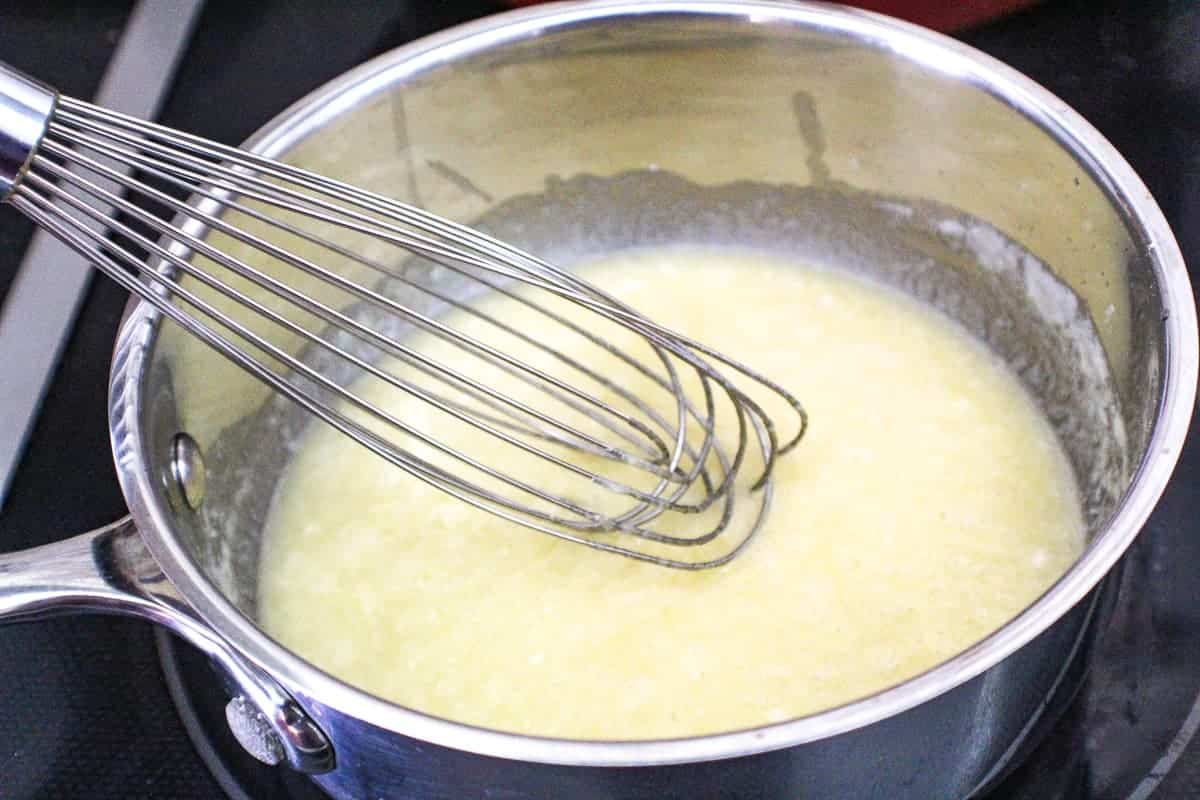 Add a splash of milk and continue to whisk until smooth; gradually add remaining milk, stirring constantly and scraping the bottom of the saucepan with a wooden spoon; season to taste with salt and pepper
Recipe tips for white cream sauce/Bechamel sauce
Use low heat and a wooden spoon if you have one
Use 2% or whole milk - no heavy cream required; just use regular milk
Use room temperature milk: set the milk out of the fridge about 20 minutes before starting the sauce or, heat the milk in the microwave on low.
The objective here is to not add cold milk to the hot roux; this often results in lumps in the sauce
Do not overcook the roux: a quick 1-minute cook on medium heat should do it. (You want a white roux for the base of the sauce--not a blonde roux; white cooks in about 1 minute; blonde cooks in about 3 minutes.)
Add milk with the pan off-heat: once the flour and butter are combined, lift the saucepan off the heat; add the milk, then return pan to heat.
Taste before adding salt: If you use salted butter, don't add more salt until the sauce is finished--you may not need more salt!
This sauce thickens the longer you cook it
This recipe calls for salted butter but you can use unsalted if you prefer. I've found a stick of salted butter is enough salt for me in this sauce, but you might like a bit more!
Use ground black or white pepper; just add it to taste but keep in mind that ground white pepper is stronger than black pepper so use white judiciously.
You can use whole or 2% milk, half-n-half- or heavy cream (heavy whipping cream) in this basic sauce.
Note, heavy cream has a bit of a sweet taste to it, so if you don't want a sweet flavor profile in your cream sauce, just stick with plain white milk.
Cream sauce ingredient proportions
Use this chart as a proportion guideline. Remember, the ratio of fat to flour is always 1:1. The texture (thickness) of the sauce is determined by the amount of fat and flour. You can thin a sauce by adding more liquid.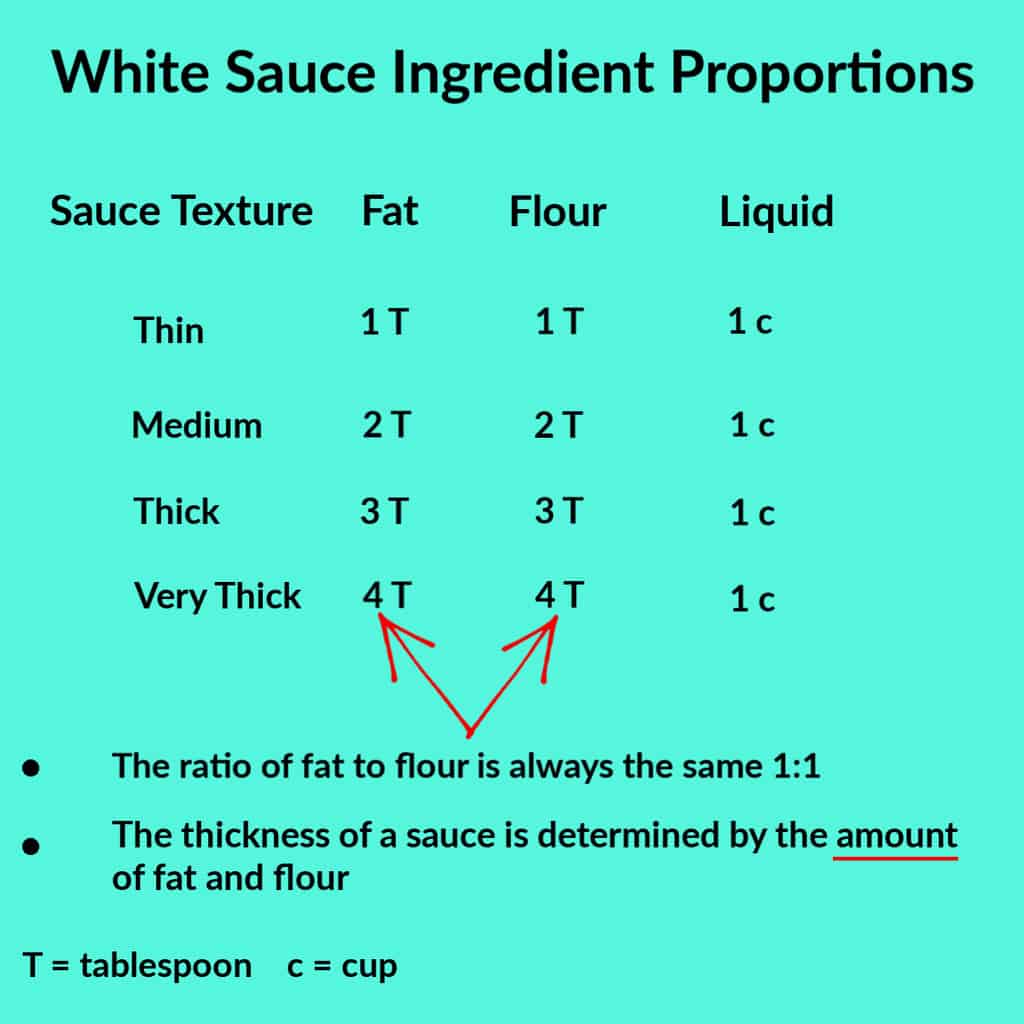 If you use more fat and flour, the sauce will be thicker...conversely, you can thin a thick white cream sauce by adding more liquid.
Variations for basic white cream sauce
A really good white sauce serves as the basis for many other sauces and gravies, as well as a thickening agent for soups, stews and casseroles.
Herb-infused Cream Sauce: Add herbs to a basic cream sauce and you've got a completely different flavor profile! Recall that dried herbs are three-times stronger than fresh. Add dried herbs to the sauce right after you add the milk. Add fresh herbs at the very end of the cooking time. Some favorites are dill, sage, tarragon and rosemary.
Garlic-infused Cream Sauce: cut a clove of garlic in half and rub the cut side around the perimeter and bottom of the saucepan. This gives a faint, but not overwhelming hint of garlic flavor to the Bechamel sauce.
Spice-infused Cream Sauce: using a microplane, grate a little cinnamon or nutmeg over it. Other nice spices are: sweet and smoky paprika, ground cloves, allspice, mustard, coriander or cumin.
Cheese Sauce (Mornay sauce): add any shredded cheese to the sauce after you've combined the milk with the roux. Cheddar for macaroni and cheese, Parmesan for Alfredo sauce for pasta, or pureed tomatoes for spaghetti and lasagne.
Garlic Cream Sauce - add in a little finely minced garlic when you make the roux; the best way to avoid having clumps of garlic in your sauce is to strain it through a fine mesh strainer before serving
Finish the Cream Sauce with an Acid: Add an acid to your finished sauce to even further develop the flavor! Acids always go in the sauce last and use them sparingly. Try a little lemon, lime, orange or a little vinegar - other acids include wine, alcohol (liqueurs), tomatoes and buttermilk.
Condensed soup substitute
If you're trying to stay away from processed foods, a white cream sauce is going to be your best friend!
This sauce can easily be incorporated into recipes that call for condensed "cream of" soups. All you have to do is add the desired flavor to the sauce.
Cream of Mushroom: saute onions and mushrooms in 1 T of oil; puree in food processor; add to cream sauce; season with salt, pepper and onion and/or garlic powder if desired
Cream of Celery: saute onions and celery in 1 T of oil; puree in food processor; add to sauce; season with celery salt and pepper
Cream of Chicken: add 1 T of "Better Than Bouillon" chicken flavor to the sauce before you add milk; whisk until smooth; season with salt, pepper, onion and/or garlic powder
Homemade Alfredo sauce: add in a little shredded parmesan cheese and a hint of lemon juice
Uses for white cream sauce
Incorporate into soups and stews to thicken, or to casseroles to make them creamy.
Drizzle sauce over vegetables like peas, asparagus, new potatoes or broccoli or, add some to your favorite casserole!
The addition of a basic white sauce adds a creamy texture to whatever dish or casserole you choose!
Use in lieu of canned condensed soups, which are laden with sodium
Storage and reheating
You can make this basic white cream sauce in advance and store it in an airtight container in the fridge for up to 3 days.
To reheat, simply pour sauce into saucepan and re-heat on medium low. You might need to add a little milk upon reheat, as it thickens when refrigerated.
This cream sauce base is perfect for thickening soups and casseroles and the introduction to many cream-based sauces. The simplicity of it is what makes it ideal for many rich and creamy casseroles.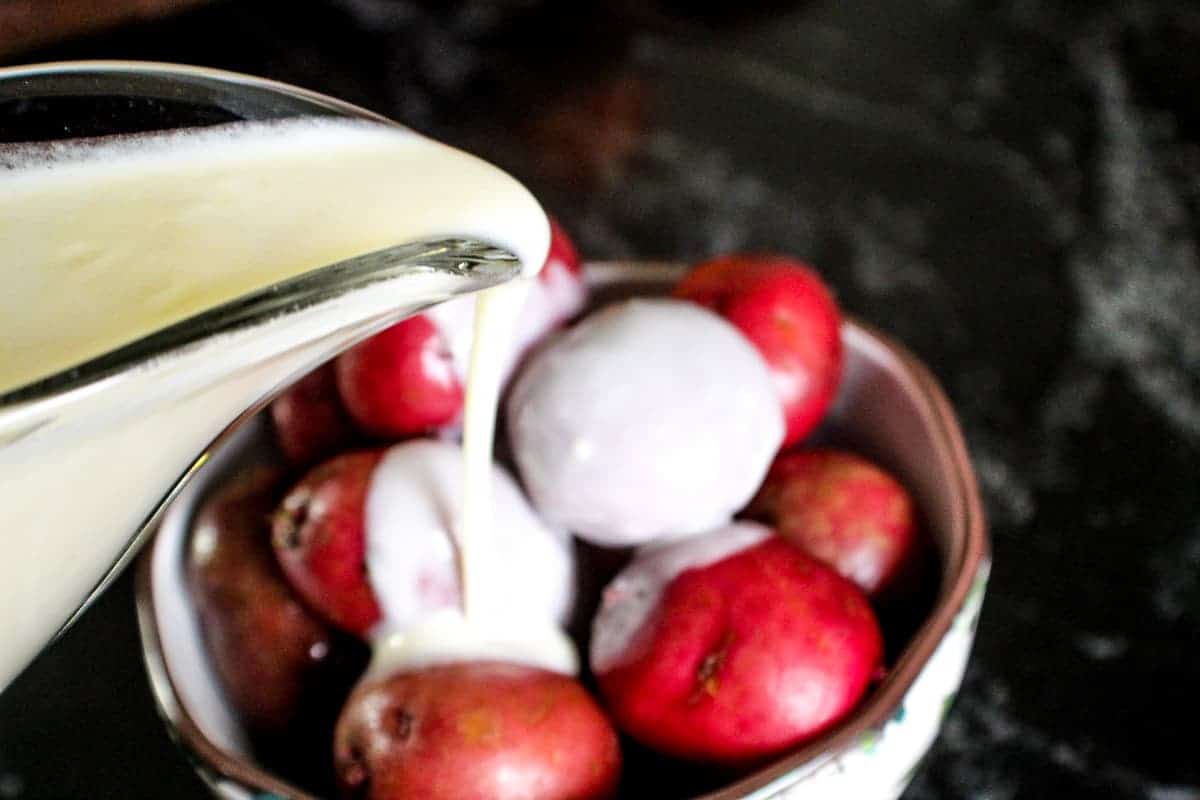 This easy, basic white cream sauce recipe can be a lifesaver for home cooks! Use it as a thickener in casseroles, as the base for cream gravy for chicken fried steak or as an alternative to canned condensed soups.
Related recipes:
If you make this recipe, please scroll down and leave a rating and comment! I love to hear from you!
📋 Recipe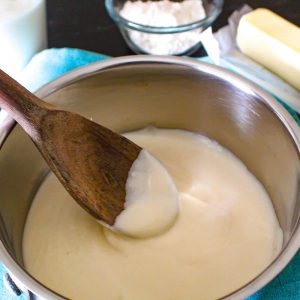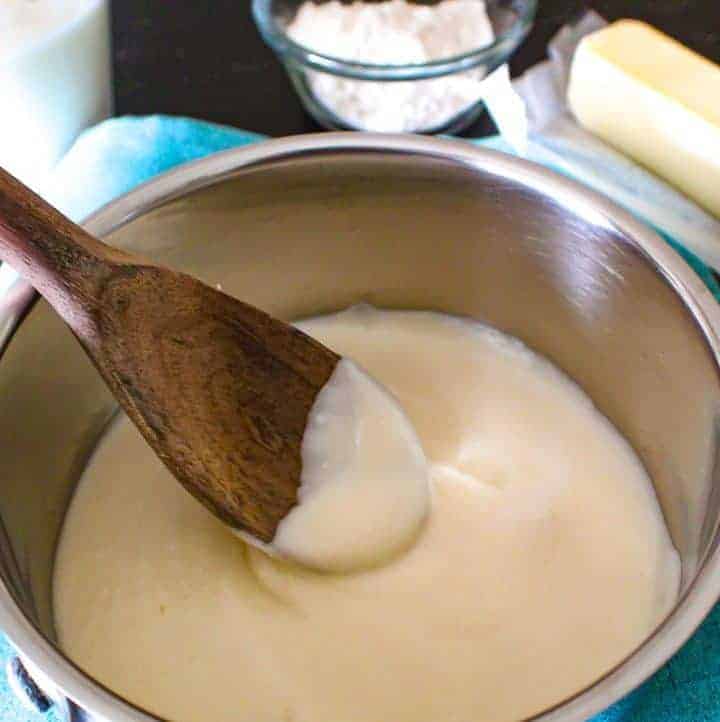 Basic White Cream Sauce (Bechamel Sauce)
Easy white cream sauce is perfect for thickening soups, stews, or add to casseroles or vegetables.
Print
Rate
Ingredients
½

cup

flour

, all-purpose

1

stick

butter

,salted or unsalted (See Recipe Notes)

2

cups

milk

2% or whole (See Recipe Notes)

salt and pepper (to taste)
Instructions
In a medium saucepan on low heat, melt butter

Sprinkle in flour and whisk until smooth

Remove pan from heat and add milk; continue to whisk off heat (see recipe notes)

Place saucepan back onto stove burner and continue to whisk until sauce is smooth

Taste for salt and pepper; adjust according to your palate; serve

salt and pepper (to taste)
Notes
Butter:
Use salted or unsalted butter in this recipe; taste for salt after sauce is complete.
Milk:
Use 2% or whole milk for cream sauce. You can substitute with half-and-half or heavy cream, but keep in mind the heavy cream will produce a slightly sweeter taste than milk.
For best results, let milk stand at room temperature for about 5 minutes. Cold milk will cause the sauce to clump
Add milk in 3-4 increments; do not pour it in all at once
Texture:
Initially, his recipe makes a relatively thin sauce, but will thicken the longer you cook it. Also, if you cook it at a high heat, you will get a thicker sauce, but if you cook it on too high of a heat, the sauce will break down.
Nutrition Estimate
Serving:
1
cup
Calories:
668
kcal
Carbohydrates:
36
g
Protein:
11
g
Fat:
54
g
Saturated Fat:
34
g
Polyunsaturated Fat:
2
g
Monounsaturated Fat:
14
g
Trans Fat:
2
g
Cholesterol:
146
mg
Sodium:
509
mg
Potassium:
369
mg
Fiber:
1
g
Sugar:
12
g
Vitamin A:
1807
IU
Calcium:
294
mg
Iron:
2
mg