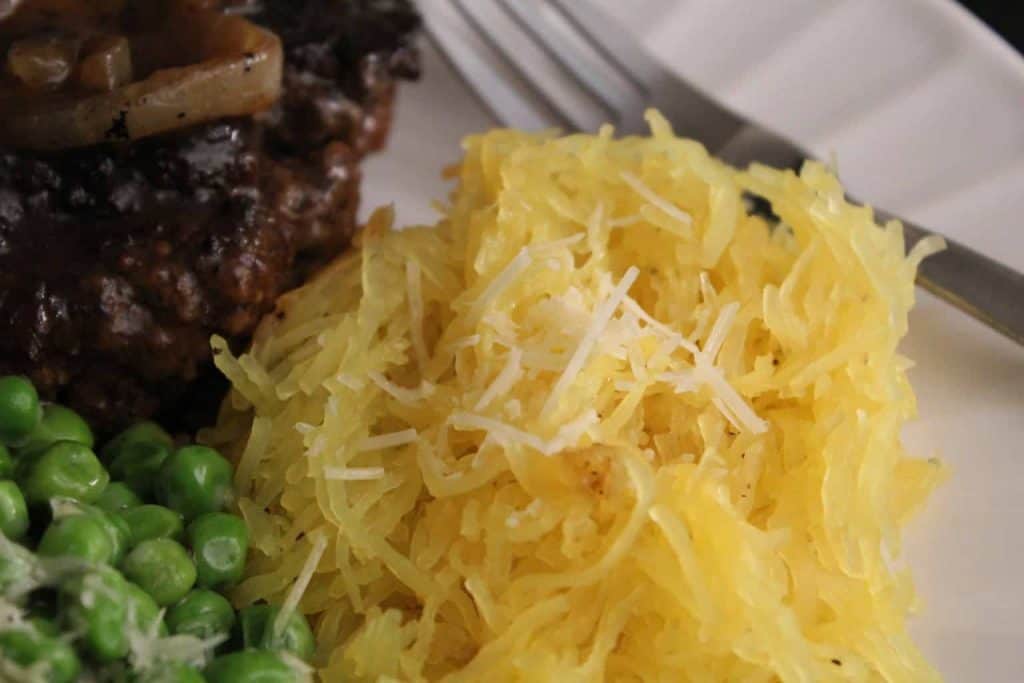 Baked Spaghetti Squash
Baked Spaghetti Squash is an easy, nutritious food that can serve as a substitute for those nasty complex carbohydrates! The trick is to prepping the squash so that it's tender enough to cut!
How to Make Spaghetti Squash
Soften the squash so you can cut it. I usually blanch the squash in a pot of hot water, but I've read you can microwave it, too! If you microwave the squash, be sure your microwave setting is on low. Whichever method you use to soften the squash, remember it's going to be very hot and heavy! Prepare to use a big heavy tong or get a friend to help…seriously, it's tricky handling that hot baby!
Once you've removed it from the hot water (or microwave), let it cool a bit so it's not too hot to touch. Then, slice off each end. Next, slice the squash lengthwise. Now you have two halves.
Using a big spoon, scrape out the seeds. Some strands may come out, too and that's okay. Next, place the halves cut side down in a baking pan with about an inch or two of water.
Bake uncovered at 350° F until squash is tender; allow squash to cool a bit then, take a fork and scrape the "spaghetti stands" out. Place them in a bowl, season and serve!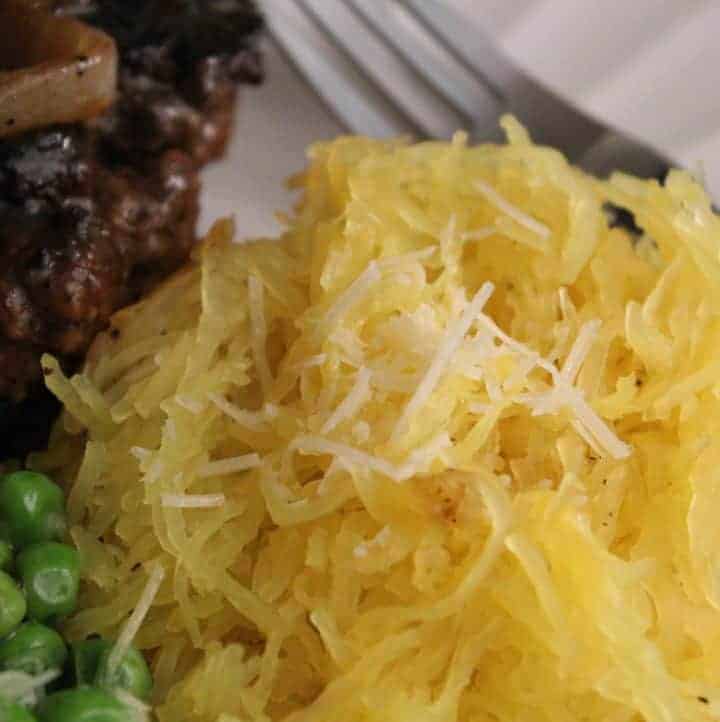 Baked Spaghetti Squash
Baked Spaghetti Squash is an excellent source of nutrients and vitamins! It also serves as an excellent replacement for high-carb pasta or noodles!
Print
Pin
Servings:
4
1/2 cup servings
Ingredients
1

spaghetti squash

1

tablespoon

butter

salt and pepper to taste

Parmesan cheese

optional
Instructions
Bring large pot of water to high heat

Place whole spaghetti squash in water

Rotate the squash in the pot of water so all sides are submerged at some point (this softens the outer skin which makes it easier to cut the squash in half)

Using tongs, remove squash from hot water and allow to cool a bit (until you can touch it)

Cut ends off squash; then, slice squash lengthwise

Use a spoon to remove the seeds from squash

Add 2 inches of water to a 9 x 13 baking dish

Place squash halves in baking dish with the cut side down

Bake for 30 minutes, or until squash is tender

Remove squash from oven; using a fork, scrape the "spaghetti" strands from the squash halves and place them in a bowl

Add butter, salt, and pepper to squash strands; combine well

Plate and garnish with Parmesan cheese if desired
Spaghetti squash goes great with most proteins and is an awesome substitute for potatoes or noodles. You might want to try Beef Spaghetti Squash Stir-Fry recipe, too!