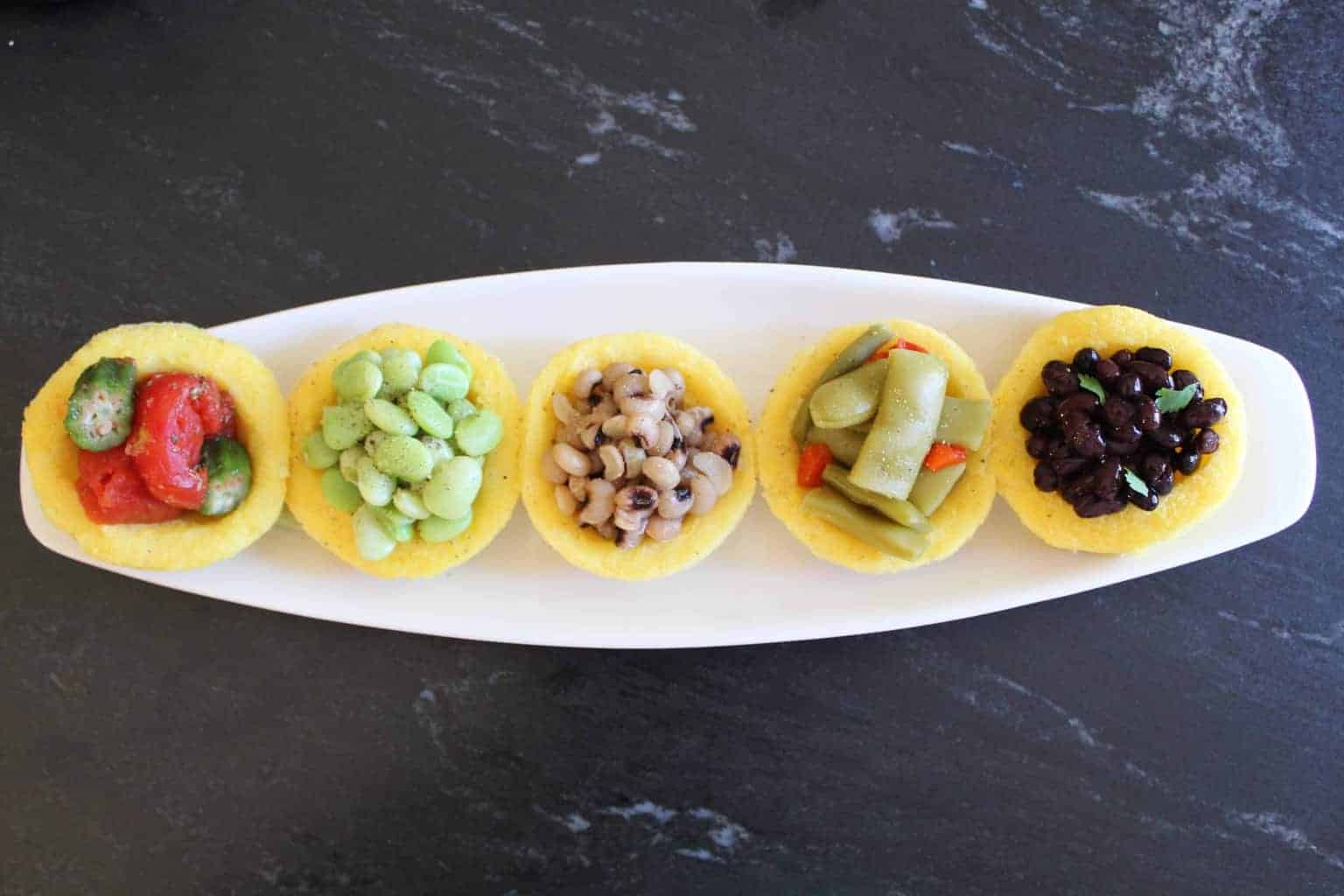 Baked Polenta Cups
Baked polenta cups are the perfect vessel to serve your favorite side dish! Interestingly, the term polenta actually refers to an Italian dish made from flint corn, and not to a grain or corn.  Most American polenta dishes made from high quality stoneground cornmeal, or with everyday cornmeal.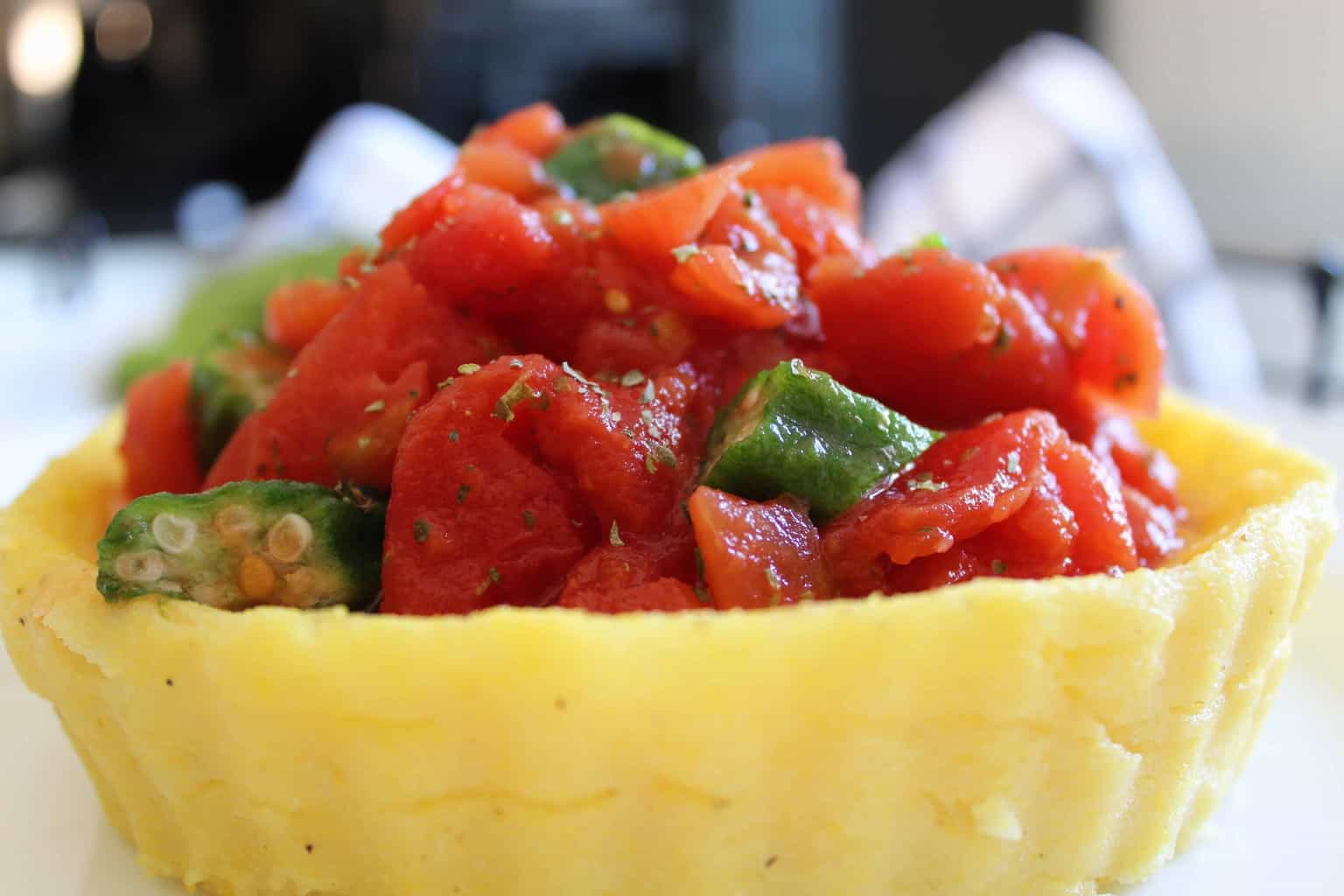 Polenta is cooked cornmeal, has a relatively mild flavor, and the texture is firmer than cornbread. It can be seasoned with spices and herbs to reflect a particular ethnicity of a meal.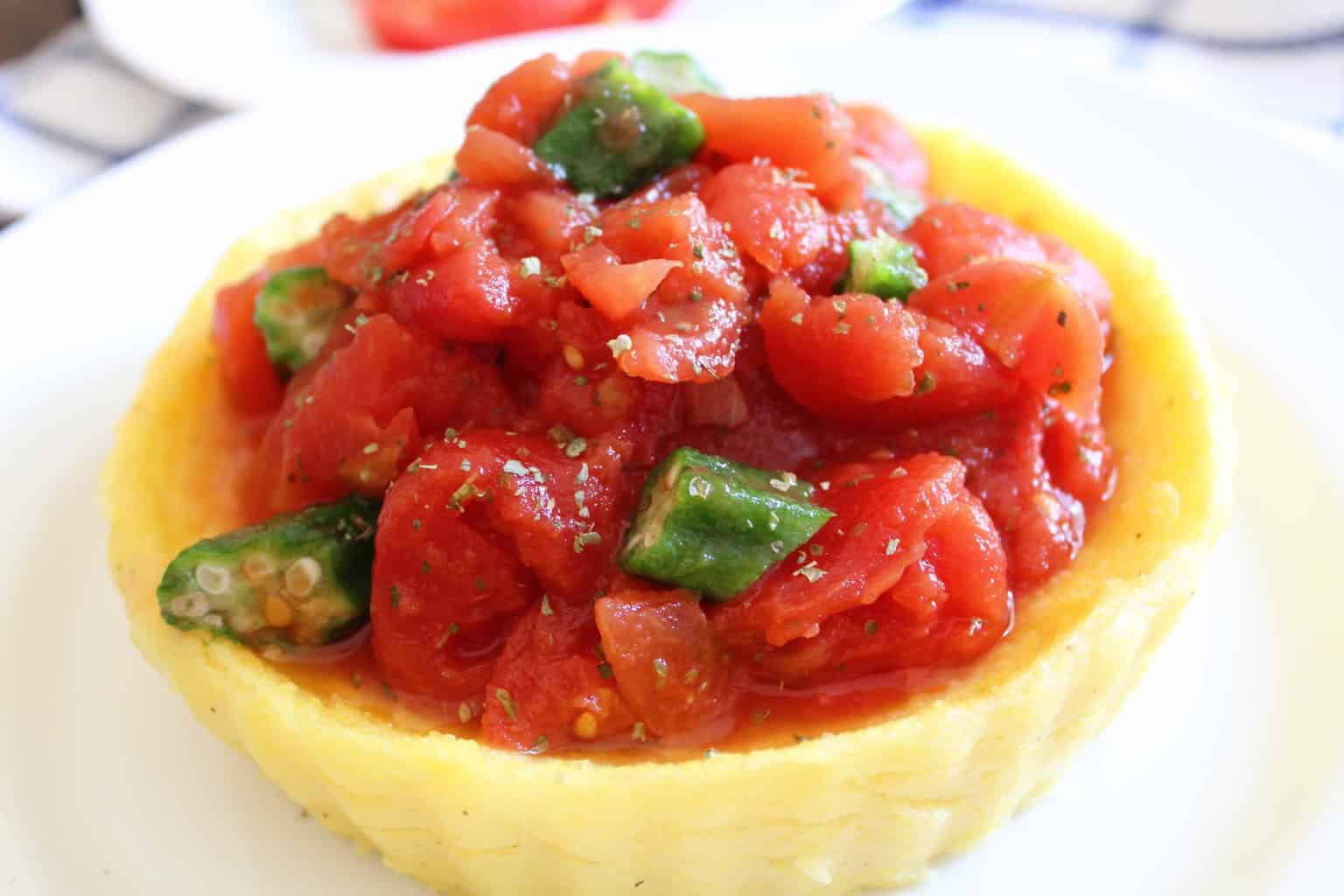 Stewed Tomatoes and Okra is a classic Southern dish, typically served as a side dish, along with a slice of fresh cornbread, — a great side dish to place in a polenta cup.
What Does Polenta Taste Like?
Polenta has a mild flavor and tastes a lot like grits–pretty bland; however, it can be easily enhanced by adding seasonings, herbs or spices. If you're serving polenta with ratatouille, you might want to season the polenta with Italian seasonings (rosemary, sage, basil.)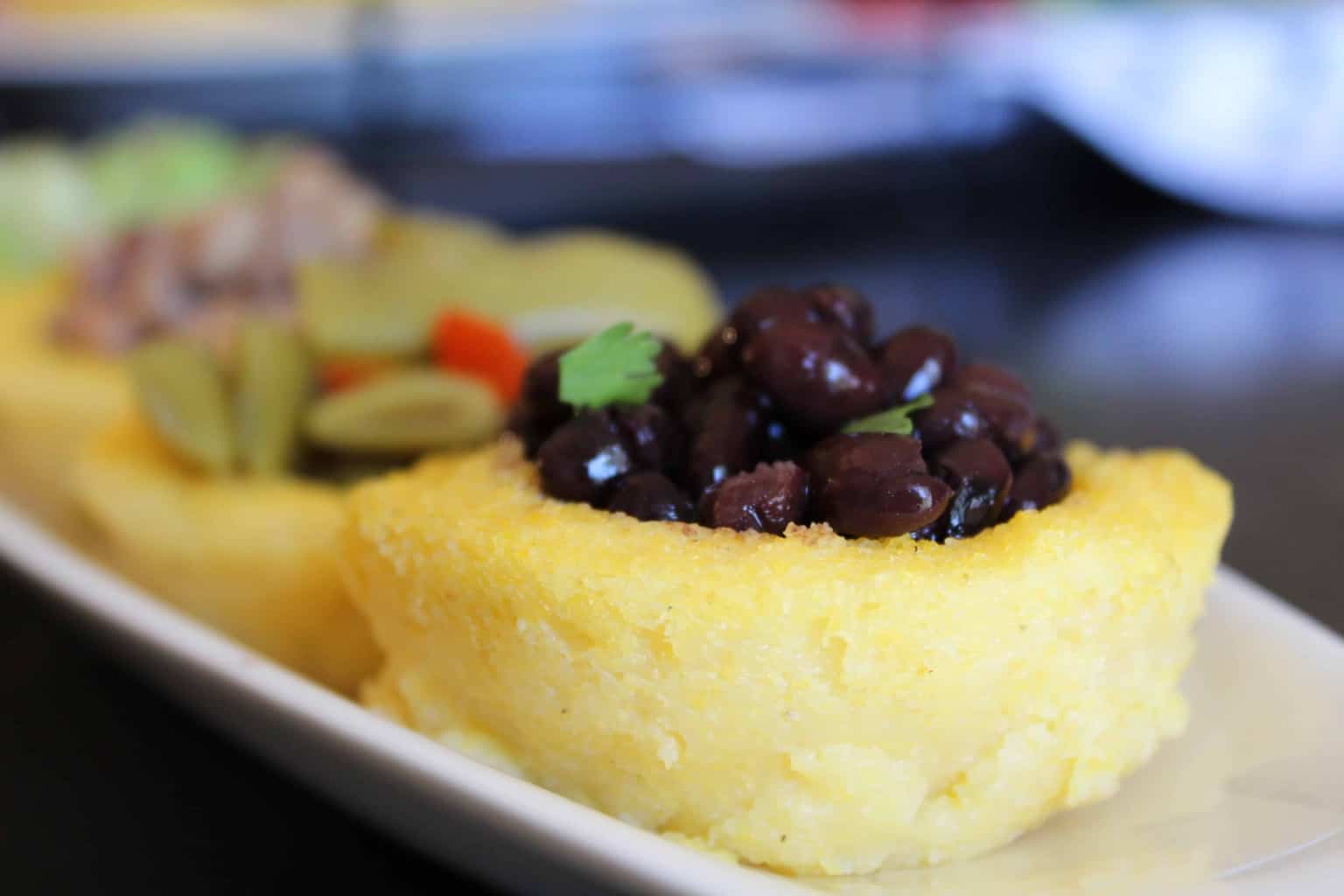 What is the Texture of Polenta?
The texture of cooked polenta is similar to grits; grainy and not to thick. However, in this recipe the polenta is first cooked on the stove top, then baked. The baked texture is semi-firm, chewy and a bit grainy.
What Kind of Cornmeal or Polenta Should I Purchase to Make Polenta Cups?
Keeping in mind that polenta is not an ingredient, but a dish, you'll want to be smart at the grocery store. Some manufacturers market "polenta" in a clear, plastic tube, but remember, polenta is a dish..not an ingredient, so this is a little misleading.
Don't be fooled by these marketing tactics. Polenta is a dish made from cornmeal, so any high-quality cornmeal will suffice. Stoneground cornmeal works well, as does normal cornmeal.
How do I Form the Polenta Cups?
After you've seasoned and cooked the cornmeal on the stove top, pour it into a lightly greased muffin pan and place the pan in the fridge for about 15 minutes. Then, using wet fingers or a wet spoon, gently massage the cornmeal to form cups. Bake at 350ºF for about 25-30 minutes.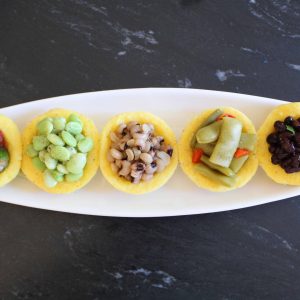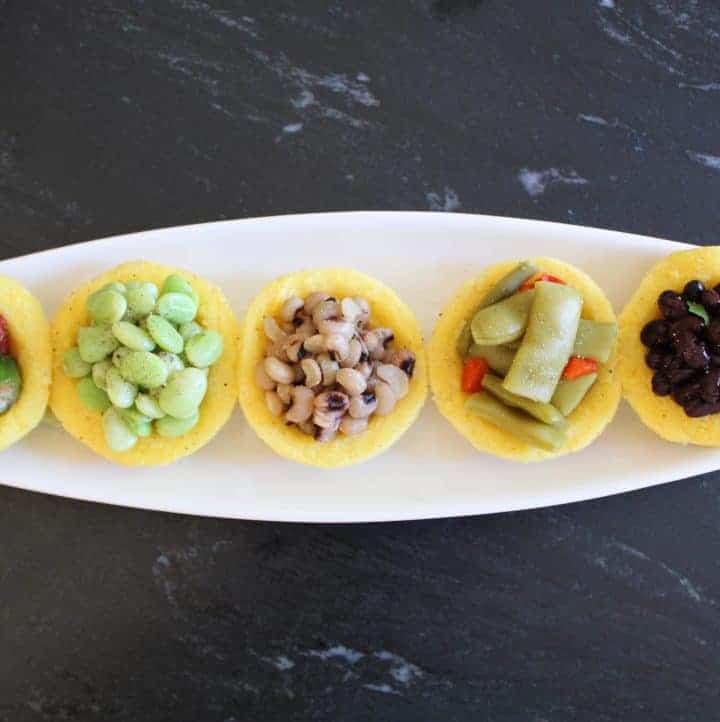 Print Recipe
Polenta Cups
Polenta cups are a novel way of serving your favorite vegetable! These can be made bite-size or larger, and in advance.
Ingredients
1

cup

cornmeal

high quality or stoneground

4

cups

water

(can use broth)

1

teaspoon

kosher salt

may need a bit more

1

tablespoon

butter

optional
Instructions
In a large saucepan, bring water (or broth) to boil; add cornmeal and salt; reduce heat to medium

Using a wooden or metal spoon, begin to stir the mixture; it will spit and spatter, so be careful; continue to stir until mixture begins to thicken and pull-away from the sides of the saucepan; you may have to reduce the heat a bit here!

Remove from heat; taste for salt; add butter (optional); add any spices or seasonings now

Pour contents into non-stick (or lightly oiled) muffin pan; place muffin pan in fridge for about 15 minutes

Preheat oven to 350ºF; adjust cooking rack to the middle

Remove muffin pan from fridge and, using wet fingers or the back of a wet spoon, begin to massage the cornmeal into cups

Once cups are formed, bake for 25-30 minutes on middle rack

NOTE: the color of the polenta will not change; to test for doneness, gently push on the bottom of the cup; it should be relatively firm

Once cups are baked, remove muffin pan from oven and allow to cool for about 10 minutes;

Use a knife to score the perimeter of each muffin pan, gently loosening the cup

Place polenta cups on wire rack to cool

If serving immediately, place cups on serving platter and fill with contents

If you're making the polenta cups in advance, store in a air-tight container in the fridge for up to three days;

When it's time to serve the cups, simply pop them on a baking sheet and re-heat until warm throughout; plate, fill and serve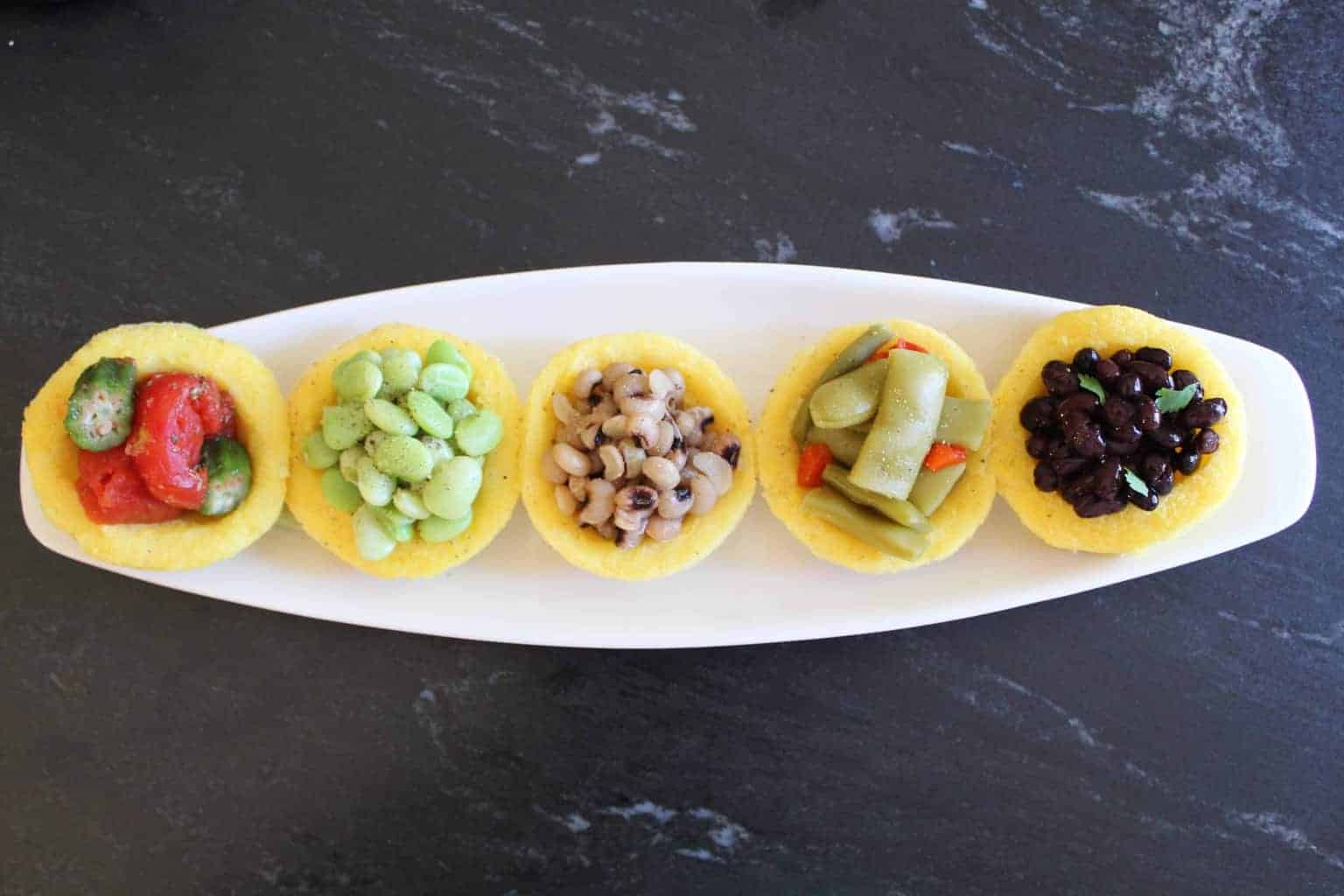 What Should I Place in Polenta Cups?
You can serve just about anything in a polenta cup! Try Stewed Tomatoes and Okra, Black-eyed or Purple Hull peas or Ratatouille!